Seems like they are working on it…
Hi everyone - new Roon subscriber. My girlfriend and I can't find top tracks for artists.
Can this please be addressed with priority? It's a core feature I need to keep using this.
Such an important feature that we have been asking (pretty please) for a while.
I find myself using Spotify more that Roon + Qobuz due to this. Hopefully we see it soon.
Roon 1.8 only half-addressed this

Its nice to see the "popular" section actually staying put now. But the fact that it hardly lines up at all with what other services (tidal/spotify/qobuz) are listing as the top tracks is a shame and means the feature is still of little use.
Please roon, please can we have top tracks…
Having to keep tidal open side by side with roon so that I can actually see top tracks when browsing is beyond clunky
Amen, I'm playing tidal through roon but i still have to have tidal open and when a new artist pops up on roon, flip over to tidal, search the artist, look at top tracks, flip back to roon, search for the song, and finally play! Why the f*** do i have roon anyway!!?
Room look at my usage history, I'll go a month would touching roon but use tidal everyday!
Please, please roon chime in. Is popular broken or is this what you wanted?
Hey @GoldenSound @Martin_Zupancic – it would be great if you guys could give me some examples of artists where you're not getting the top tracks you expect. We did some analysis after these initial posts and I definitely agree that there's room for improvement.
A few examples of where you feel like our lists are coming up short will be helpful as we work on improving these recommendations.
Thank you!
Is definitely one of the most used features for me / many
For example, for the band "Blacktop Mojo" there are no popular tracks listed.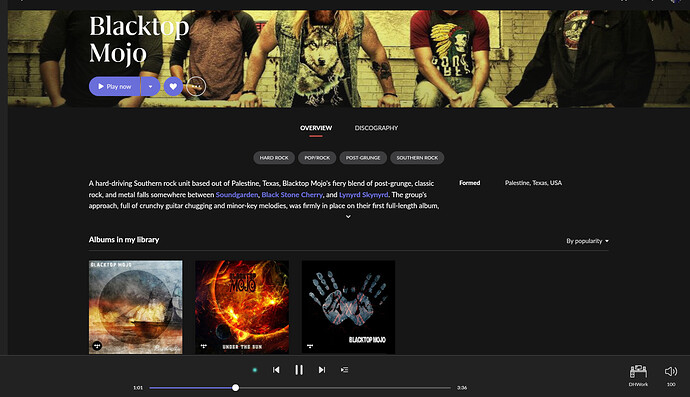 And one more thing about "Popular/Top Songs". Please consider to add the ability play top songs as default action for the "Play Now" button on the Artist Page
Just take at look at The Beatles and Bob Dylan. They are obviously not the correct top tracks/popular by any measure. Tidal or Qobuz are right on.
I have a question Mike. Is it technically possible to integrate the top tracks from tidal/qobuz into roon if you have them linked? If so could we get a toggle in settings, a quick fix till you guy figure out what valence is doing.
Here are a few from various genres. As you can see, spotify and tidal's top tracks are either identical or incredibly similar. Meanwhile roon SOMETIMES gets the #1 track correct, but everything after that is basically random.
It would be really really good if the 'popular' section in roon was fixed to address this, or at least give us the option to feed popular from tidal data instead of roon's own rankings?
Love to be able to hide the top tracks section.
Hope that the artist's popular track issue will be addressed in the next version of Roon. That is, 1.9?
I signed up for the year subscription and spend much of my time looking for new music to listen to. I won't be renewing as this feature is not available. Maybe I just don't understand how Roon works but I really like the top tracks feature on Tidal. I prefer the sound quality of Qobuz. But will just stick with Tidal connect for my Node 2i.
Under artist I get a Popular Tracks listing at the beginning of the Overview page. Do you not see this?
This is the popular tracks as determined by Roon Users data. Just like Tidal's is based off Tidal's users.
Thank you for the reply,
I do see the option but have never have found the selections to be useful. Maybe it's just my tastes and music preferences, but the Tidal options are usually right on the spot. The similar artists option does work well for me in Roon, but then falls flat when I looking for good tracks to help me understand what the artists "sound" is. I always have Tidal open so I can switch to it when I find a suggested artist in Roon that I would like to try to find their Top songs. Also, this is more of a feature request but each track in the Popular section is separated into a card like structure that is messy, non-efficient, and hard to read. Screenshot of what I am referring to-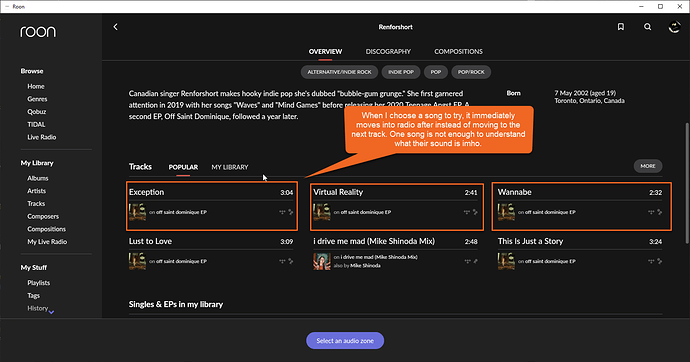 I use "Home- New Releases for you".
Gives good recommendations for me.
I agree, I enjoy the new releases as they seem to tailor well, but again If I want to explore an artist… I am s.o.l. as again the popular tracks don't have a clue. What I don't understand is that I have read 3 years of posts with people looking for improvements to this feature. I work for a sass company and if we didn't deliver with that much outcry I would expect to see a drop in customer base. There is a ton of stuff Roon does really well. I love the suggestions for the artists, the ability to have one service for Tidal and Qobuz while I am deciding which I prefer if not just keeping both, The artist background info is great, and I love how with Rock it works amazingly well with my NUC. For myself, the top tracks missing or being reasonably functional is the deal-breaker.
Roon chooses up to 20 tracks of an Artist, if their catalog can support it, you need to click the More button to see the entire list.
If you want to play the listed Popular Tracks in Roon, quickly
Click on the Title of the first track, in this case "Exception"
It will bring up a blue play menu, choose play from here
All the tracks in the Popular Tracks section will get added to the Queue.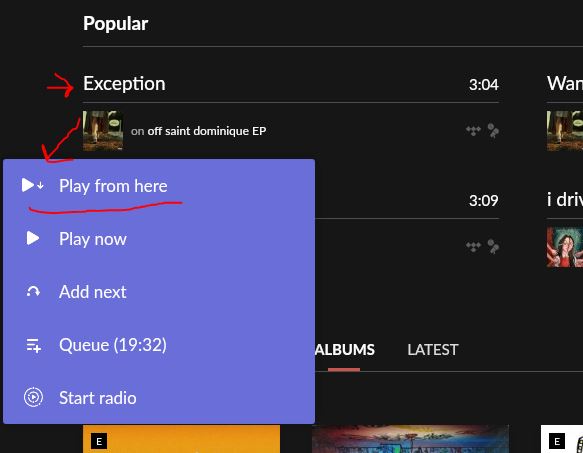 Another way to do it, is to just click the More Button which will bring you to the Whole Popular Tracks listing. Select All* and then hit play.
on Windows Ctrl-A, or right click on one track and go to the top left and choose Select All from the drop down.
I didn't think about using that option. I use the sub-menus everywhere else lol, but didn't think of it there. That being said, my issue with the popular tracks in Roon is that they are typically way off the mark compared to Tidal, AmazonHD Music, and sometimes Qobuz imho.
Thank you for your suggestions though, I do appreciate it!
I would bet that is down to a difference in user bases. Each of those services uses their own data; just like Roon does.