I just bought a new set of speakers (Monitor Audio Silver 300) and while they have the bass I was looking for, they sound kind of muted and not nearly as lively as my old ones. So I decided to measure things (REW and UMIK-1) and see if I can figure out what's going on. Here's the result: frequency response with the old speakers (Rega RS5) in purple, the Monitor Audios in green (bass ports open) and red (bass ports plugged).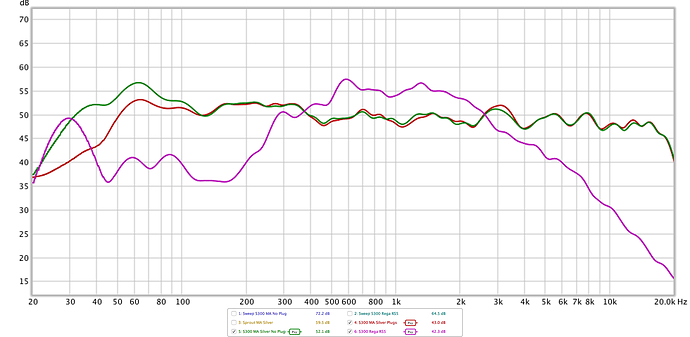 The old speakers have this amazing rise through the midrange that I never realized was there. The new speakers are really nice and flat, if a bit heavy in the bass – but that's nothing compared to the 15dB bump in the midrange the old speakers have!
I'm essentially waiting for my ears to adapt to the new speakers, but I'm wondering if that bump is actually really pleasant and should be there. I just created a simple approximation of that in the DSP settings, and it does make things a bit livelier. But should I do that or see if I start to like the new speakers as they are?