I'm trying to setup HQPlayer on a dedicated machine to squeeze as much as possible from it. But I think maybe cuda isn't working as should? I have installed all the various cuda drivers but it seems HQPlayer uses very little memory from the GPU. While playing a track this is the output from the GPU using the command nvidia-smi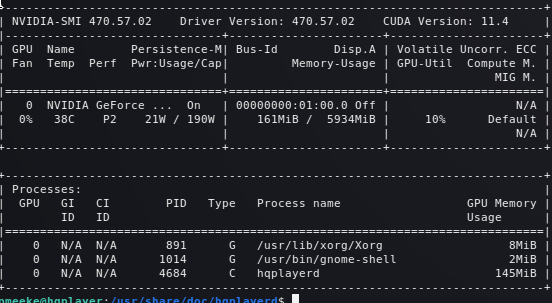 Looking at the process for hqplayerd its only using 145MiB? should this not be a lot higher?
Some other info I have found using the nvcc --version command
nvcc: NVIDIA (R) Cuda compiler driver
Copyright (c) 2005-2019 NVIDIA Corporation
Built on Sun_Jul_28_19:07:16_PDT_2019
Cuda compilation tools, release 10.1, V10.1.243

My processor is a AMD Ryzen 3 2200G, 16gig ram. During playback the speeds of the cores seem to rise around 3.6Ghz (2 examples below)
cpu MHz         : 3425.257
cpu MHz         : 3421.047
cpu MHz         : 3442.948
cpu MHz         : 3471.218

cpu MHz         : 3693.204
cpu MHz         : 3693.213
cpu MHz         : 2460.553
cpu MHz         : 2798.226

And finally a screenshot of roon's signal path: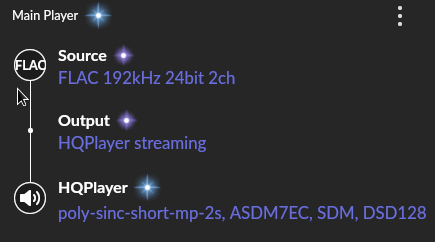 So… is cuda working? what can I do to improve the performance?
Just for info I followed this guide for installing cuda.