I am running Roon Core on a 2018 Mac mini with 3.6Ghz (G3) and 16 mb of ram and just installed HQplayer4. I am using a USB cable between the Mac mini and a Peachtree Nova 220SE. I mainly use Qobuz for music. I am also at present running everything off the Mac mini.
The issue I am having is switching between using HQplayer4 via Roon and the Sound preferences for audio outputs on the Mac mini. I can listen to music using HQPlayer4. But when I stop playing music and then try to listen to utube or any website with sound, the audio output on the Mac mini is automatically changed to a different output. Oddly, I can switch the output back using system preferences; however, it doesn't actually change the output. When I click on the sound icon at the top menu and try to switch back to the Peachtree, the icon spins and never switches.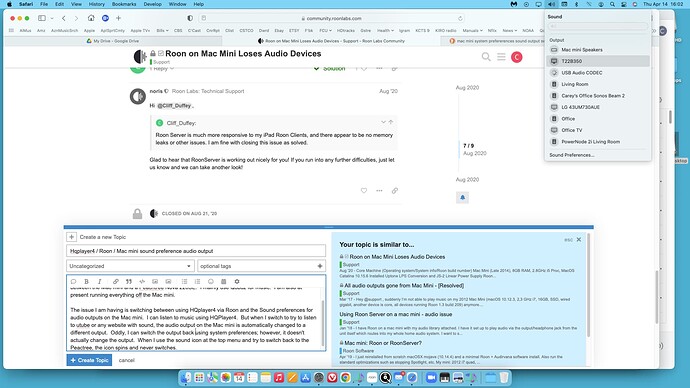 If I quit HQPLayer, I can reset the audio output. Once I have restarted HQPlayer and listened to music, as soon as I try to play anything directly off the Mac, I can no longer change the output device.
I hope this makes sense. It's a weird situation.