Roon Core Machine
Roon Rock on Gen 11 NUC
Connected Audio Devices
iBasso DX320 DAP
Description of Issue
I have an iBasso DX320 DAP - this is their flagship, current generation DAP. It runs on Android 11.
I've installed Roon Remote and Roon ARC clients from the Google Play Store.
After starting the device, both Roon Remote and ARC upsample all tracks to 768/24 despite the device supporting all of the common frequencies at 16 and 24 bits per sample.
In the case of Roon Remote, this makes the device essentially unusable because it can't maintain the data rate. ARC works because upsampling happens on the device, but it should be getting native rates.
The Qobuz, Tidal, and built-in Mango player apps all do the right thing. If I reboot the device, play something in one of these apps, it will basically set the DAC to that frequency. If I then launch Roon Remote or ARC and play something, it will play at whatever frequency Qobuz, Tidal, or ARC just played at.
It appears that Roon Remote and ARC are taking a single reading, at launch, of the DAC frequency.
I hope you can fix this - it's a pretty serious issue for users of this product and, I assume, it impacts users of products from other manufacturers.
Here's an image of this occurring.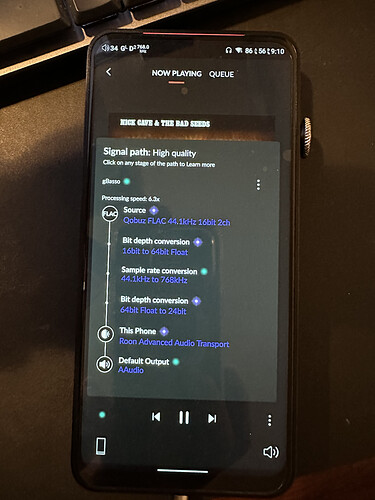 Thank you!