I have read a similar post to this, but do not know what to do.
I am using this rig at the Montreal Audio Fest next week, and want it to be perfect. I will test more today and tomorrow.
I am running Roon on the recommended QNAP TVS471 set up. Roon is on a WD Blue 3D NAND SATA SSD 250, and my music is on WD RED 4TB.
The network is based on a Luxul XBR4400 router, feeding a DLInk DGS1100-16 switch and Luxul XWC1000 Wireless Controller. There are 2x Luxul XAP1500 access points.
The DLinkDGS1100 feeds into a Luxul AGS1016 switch in my den, which the Krell Vanguard Universal DAC is connected to.
I have been building a playlist, and jumping around quite a bit in my music, as I add songs to the list. The music never stops playing, but as I jump back to Artists to look at another selection, I often get a message saying that connection to the core has been lost. It comes back either almost immediately or within 10 seconds. I get a message that connection to the core is lost. This is not my screen shot, but it looks like this.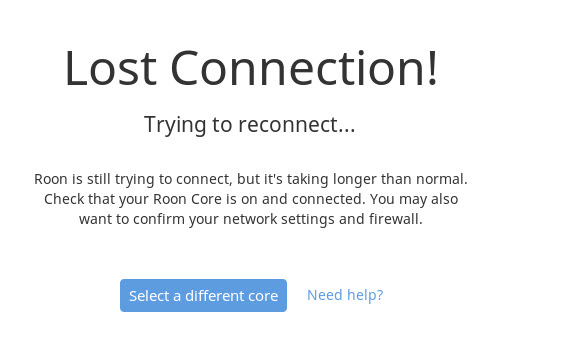 I have had this problem each time that I have sat down to work on the playlist. As I write this I am trying to recreate it, and it is not happening, perhaps because I am not adding songs to the list or because I made a setting change and boosted the Memory for Photos/Artwork to 256MB from 64.
I will try again later and report back.