Hello,
In order to understand, please find below some info about my Roon implementation.
Roon Core Machine
Roon Rock based on Intel NUC8i5BEK2 with 250Go SSD for database
OS : Version 1.0 (build 254) production
ROCK version : Version 2.0 (build 1182) production
Roon ARC activated
Music library via SMB on SSD TrueNAS with 10Gbps interface
Networking Gear & Setup Details
Ubiquiti Unifi Network & WIFI
UDM Pro as router/firewall (provider modem in bridge mode)
10 Gbps SFP+ Aggregation switch
Main 1Gbps PoE 48 port switch
Connected Audio Devices
Main room : NAD M27 (wired)
Apple Macbook's / Mac mini with USB DAC (wired)
Airplay domotics : Loxone (wired)
Sonos devices : One/OneSL (wifi)
Number of Tracks in Library
14 000 tracks
Description of Issue
Hello,
Since I activated Roon ARC (05 nov 2022) based on V2.0, my firewall detected 89 intrusions pointed to my Roon Core server. I wonder if these access are legitimate onces from Roon cloud services (and so I can allow it) or if these are portscanning bots that try to access It. If this is the case, I am a bit more worried about how these bots could find listing of Roon Core home servers with ARC.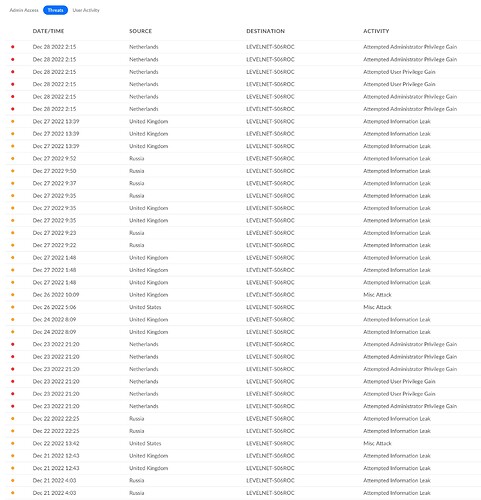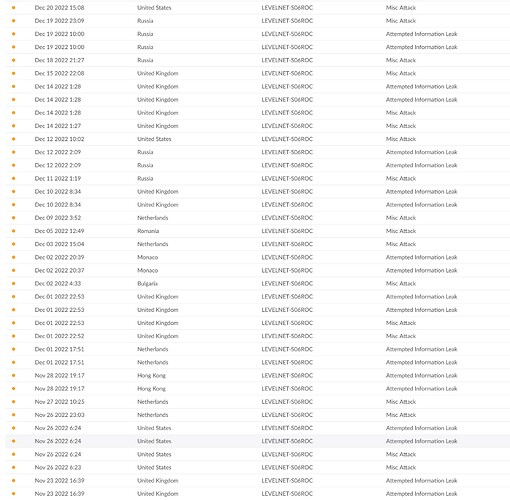 Please find here below a listing of detected IP's (only a part of it) :
46.17.96.41:33648 (Netherlands)
46.17.96.41:33644
46.17.96.41:33636
146.0.77.38:47540
146.0.77.38:47542
109.74.204.123:51254 (UK)
45.143.201.62:64563 (Russia)
45.143.201.62:63937
87.236.176.179:51033 (UK)
104.156.155.10:56968 (USA)
71.6.158.166:31383
Could Roon Cloud team check & inform us ?
Thanks !!