Roon Core Machine
NUC i7-8559U 16gb, roon core on Windows 11
Networking Gear & Setup Details
Cable connection synology-router-nuc
Connected Audio Devices
Lyngdorf tdai-3400 (v. 3.0)
Number of Tracks in Library
Approx 635k
Description of Issue
When listening I have randomly occuring "waiting for core" circle in roon app for Android. After that I getting like 0.5-2 sec pause in song. Rarely it pause song then I need start again. It can happen 0 to 5 times per song.
Music on synology NAS, connected by cable to network to router then from router by cable to NUC with roon.
When playing the memory usage changes from 65% to 96%, with CPU usage 35-42% during just a playing a music.I observed fluctuations of memory usage in 2 minutes - from 80% to 97% then dumping memory to 65% and growing again to 82%. When it hapenning the loading time of songs, changing album takes a lot of time. In Radio it can take like 5-10sec to start new song (no matter if from library or tidal/qobuz).
Sometimes it stabilizes at 25% CPU and 85% of ram.
No VPN on NUC with Roon. No other antivirus than Win defender on NUC. Windows 11 22621.819. More than 50% free ssd space. Synology restarted today. Roon restarted 1 or 2 days ago.
No scanning in background. ARC connected but rarely used. It started about 2.0.3. I am sure that there was no issues with 1.8.
I also had interruption when listening to tidal. I observed it today when I started to listen to Nick Cave "lyre of the orpheus" album, about 00:01AM 20.11.2022 my time. About 4 interruptions in 4 first songs.
I didn't obs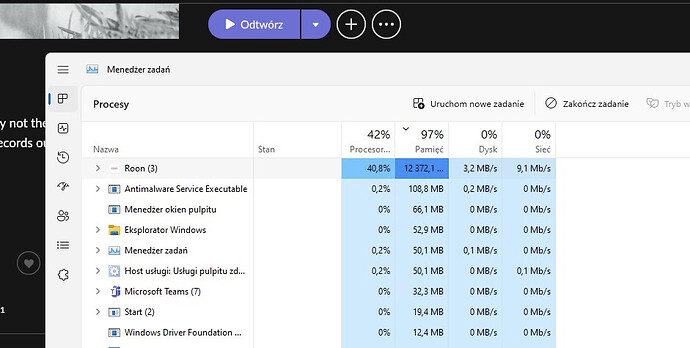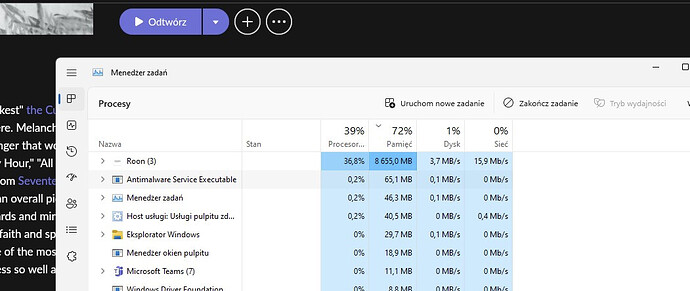 Stabilized play, no interruptions (from about 00:40 AM)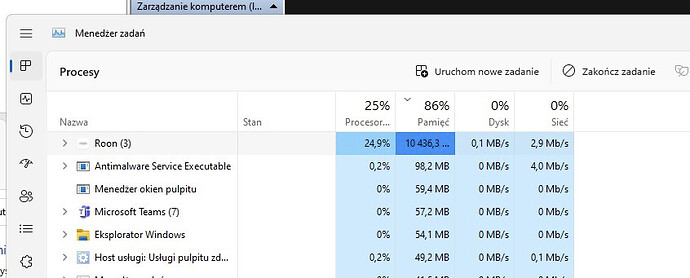 Can you check my log? Do I need upload it or it is synced? There is a lot of going in Roon log during playing…like background scanning…Can it be disabled?
It is rather annoying when I want to listen to music and first 30 min I need to be irritated by some interruptions…
Thanks in advance for any tips and help.