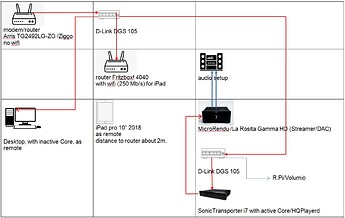 Hey…,
Last year I started a topic about briefly losing contact between Core and iPad (for remote).
iOS briefly loses connection to Core
I have found a partial solution for my situation. In my modem / router I changed a setting that had consequences. I have adjusted the lease time in DHCP Settings. It was set to 1 hour and I changed that to 24 hours. I have not had a contact failure for half a day now. Maybe I'm too enthusiastic about this solution, but for now it looks good.
Which problems have not yet been (completely) solved:
When I start up Roon on my iPad, the covers may still be gone, but I found a solution for this by changing the WiFi setting 2.4G <> 5G. Furthermore, I always have to close on the overview page with my albums. That gives the least problems when restarting.
When I shut down my PC, my iPad loses the connection with the Core after a minute. When I restart the PC, it also has no connection, but after a few minutes both are connected again. My iPad is therefore not connected to the Core when the PC is off. This problem started at the beginning of this month without my network changing.
Next week I'm going to transfer the Core from the sonicTransport to my PC. I wonder how the network connections behave. Will the cover problem and the dependency of the iPad on my PC disappear? Or do I get other problems in return?
I will report the results next week.