I finally got APTX-HD streaming from Roon to my APTX-HD compatible headset on iPhone!
With BT-W3 from Creative Labs (make sure is this model, Creative Labs has an older device BT-W2 which does NOT have APTX-HD) https://us.creative.com/p/speakers/creative-bt-w3I and the USB to lightning adapter. https://www.apple.com/shop/product/MD821AM/A/lightning-to-usb-camera-adapter
No "Not enough Power" that kind of warning from the phone when connected. Also has an LED (Yellow means APTX-HD Codec is used) to show what codec is using.
See signal path screenshot below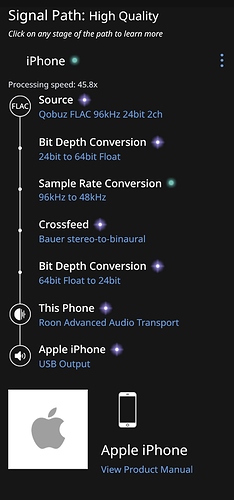 Just to note, same device on my Win10 Laptop is only 16-bit instead of 24-bit on iPhone.