Core Machine (Operating system/System info/Roon build number)
Windows 10 Pro
NUC8i7BEH
Intel Core i7-8559U / 16Gb RAM
Roon 1.7 (build 528)
Connected through Ethernet Gigabit
Network Details (Including networking gear model/manufacturer and if on WiFi/Ethernet)
Deco M5 wi-fi network with an unmanaged linksys gigabit switch
Audio Devices (Specify what device you're using and its connection type - USB/HDMI/etc.)
JBL Playlist spearker - connected through wi-fi
Description Of Issue
After successfully having some google chromecast audio workin with Roon, all playing well at 96khz/24 bit, I decided to purchase a JBL Playlist in order to use its built-in chromecast audio for the same purposes.
The JBL Playlist specifically states supporting 96khz/24bit:
https://www.google.com/url?q=https://www.jbl.com/home-speakers/JBL%2BPLAYLIST%2B150.html&sa=U&ved=2ahUKEwjxvZiZ-ffoAhXxK7kGHQaKC7cQFnoECAYQBQ&usg=AOvVaw0MHk8mrnXIxKicEG3vC3q_
However, after setting it up all audio is automatically downsampled by Roon to 48khz without much explanation.
I tried identifying the JBL as a chromecast audio and it appears as a Roon tested device, but the behavior does not change.
Here are the signal paths on the JBL and on a chromecast audio puck for the same song: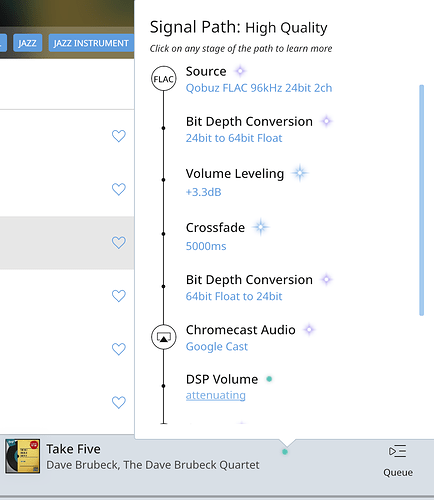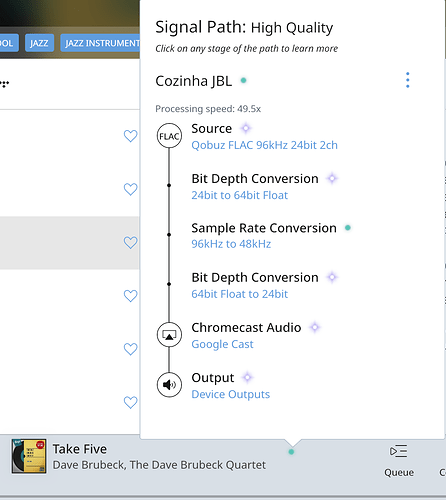 Is there anything I must to in order to use the full capabilities of the JBL's chromecast audio? Searched around here and although I've seen some people with these speakers it seems no one happened to face this problem. Any help will be greatly appreciated.