Hmm, are you using Roon Software Downloads - PC, Mac, Linux, Android & iOS | Get it Now.
The link, for me at least, isn't broken there.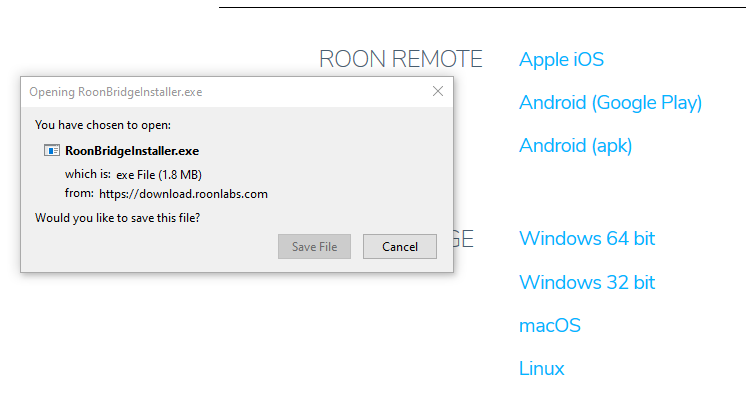 That's a completely different installer, he wants linux you are getting the windows one.
Ah, OK. Couldn't tell from the first screen.
Moved to the Support section and tagging @support.
Link should be fixed now, @Nunuv_Yerbiz — Apologies for the trouble!
bump.
if this is an example of the timeliness of acknowledging/resolving issues, i'm not so sure i'll be spending my money on roon.

Hey @Nunuv_Yerbiz,
This is a valid concern and thanks for bringing it up. What I'd like to say on the matter is that we're trying to reply to every request as quickly as possible - one thing to keep in mind is that, for now, support is closed over the weekend. On those two days, though, incredible Roon subscribers are around to help while we return.
As for right now, we've been stretched a bit thin around our Roon 1.8 release. Reply times are a lot faster.
If this is your only concern with Roon, maybe you can give it a try on a monthly basis

Hey @beka,
So another 10+ days slip into the rearview mirror.
You folks are fortunate? I've worked in support/call-centers for 3+ decades and never a one that wasn't open on weekends, if not 24x7x365.
I've had a brand new NUC running the Roon ROCK and a new DAC for more than two weeks now, and can't use either as the 32-bit device I earmarked in advance to run RoonBridge is inoperable due to no 32-bit Linux download available. Not to mention my new Tidal trial is more than halfway through.
Any hope of experiencing "Reply times are a lot faster." soon? Or is 1.8 so problematic that it is still holding up everything else?
I just wanted to let you know the team is still looking into this, we've requested an update from them and we'll be in touch as soon as we can. Apologies for the continued delay.
This topic was automatically closed 14 days after the last reply. New replies are no longer allowed.