Roon Core Machine
QNAP Silent NAS HS-264, 8GB RAM, 2x 2.5GBase-T - (Roon Core)
Networking Gear & Setup Details
AVM FRITZ!Box 7590 WLAN AC+N Router
Netgear GS105GE - Gigabit-Unmanaged-Switch
Ethernet (LAN) - CAT 6 cables in the walls and CAT 7 cable from the wall to the switch and from the switch to the units.
Connected Audio Devices
Linn Selekt DSM Surround
Number of Tracks in Library
7.300 tracks
Description of Issue
When I turn on my PC (Windows 11) and listen to Roon (USB-C - DAC - IEM) it works instantly. No problems.
Only with my Linn there is a very strange turn on/turn off/turn on issue.
If I turn Linn DSM on from sleep mode, it plays the tracks from Roon - but no sound. If I turn it off and than turn it on again, it plays the tracks and the sound is there.
Have to do that every time the Linn is in sleep mode: Turn-on, turn-off and turn-on to get the sound.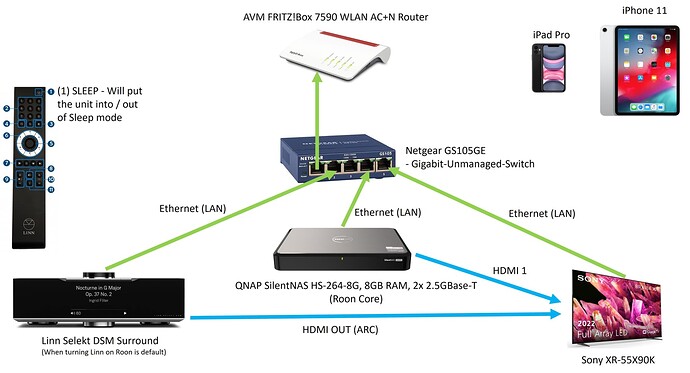 The default stetting's on the Linn is Roon. So after turn-on from sleep, Roon ist default on the Linn.
PS: If I turn the Linn on and select HDMI ARC and turn the Sony TV on, the picture and sound is there. No problem.