Linn Majik DS-i can only play by Airplay, does DS-i support RAAT? Thanks.
No Linn products support RAAT. Some of them work with Roon and are Roon Tested but not Roon Ready as not using RAAT as Linn did not implement it so Roon is using some of Linn's own tech. Models supported in link below.
https://roonlabs.com/partners/linn.html
Thank you.
So AirPlay is the only way to stream song to Linn DS-i in Roon. As airplay is 16bit only, it will down grade the resolution.
Please suggest me any good way to stream in better resolution in roon if available.
Many thanks.
The only way is to steam to something else attached to the Linn and have that go into optical or similar into the Linn.
A wide range is available have a look in the partners link above.
You can buy any number of transports that will output spdif and a Roon ready. You could use a Bluesound Node 2i and use it's spdif out so the Linn is the DAC or you could use a lower cost raspberrypi such as Allo DigiOne.
Linn DS family doesn't support RAAT, but Roon core can stream music fifes to Linn DS as a network device.
I'm still using a 1st generation Majik DS. It works fine with Roon.
Something wrong may happen in your setup.
Can you show us your setup?
This is wrong. I use Linn ADSM Katalyst connected to my Roon core with ethernet cable. As Linn streamers are Roon tested, I can play all material up to 24/192 with Roon and control device volume with Roon also. Air is not the only way and in fact not even preferred way since it degrades sound quality. Also you don't need any separate device for Roon + Linn streaming.
I don't have a Linn device, so this might not be constructive, but I wonder if there is some configuration that needs to take place. In Settings/Setup there is a field called Linn Streaming Subnet, with an IP address. See this link where that fixed the issue for someone else:
Additionally the Linn page on the Roon site suggests ensuring your firmware on the Linn device is up to date. Perhaps you need to update that?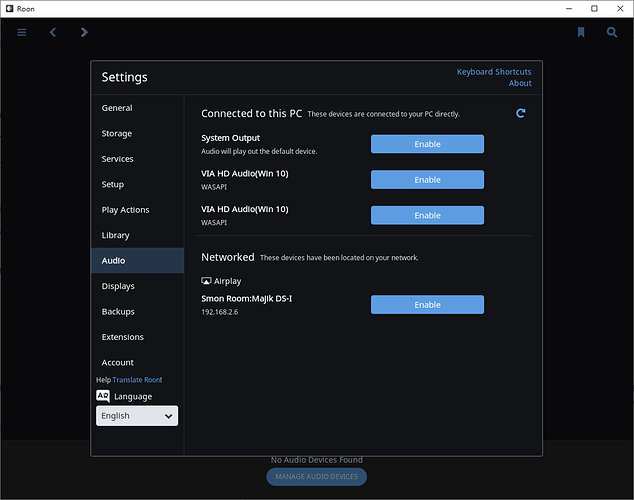 Thanks all for reply.
My Linn DS-i firmware is the most updated. Roon is also the updated one.
Roon Core is installed in one PC (Win10) and connected in the same subnet with Linn DS-i.
Does any setting require in Linn Konfig?
I really no idea how to set it as network player in Roon.
Hi there,
I also use a Linn device. Have it connected via Ethernet. Worked directly with Roon. It's a Linn Selekt DSM and itˋs shown in a separate section. Airplay is also shown but I tried and I don't like the quality.
In the beginning I had once the device not sown but after restarting Roon it was found and since than shown in the Linn section.
BR,
Arkadius
Linn DS players, including the Selekt, are classified as 'Roon Tested DAC's' by Roon. They are not 'Roon Ready', and therefore do not use RAAT as a streaming protocol.
Roon basically worked with Linn to incorporate/use a streaming protocol which was compatible with Linn's streaming architecture. In other words, Roon 'did a deal' with Linn to ensure Linn DS players worked with Roon, but without Linn being 'forced' to incorporate/use RAAT into its DS players FPGA's.
Just go to Settings -> Audio, your Linn device (in addition to the Airplay device) will be automatically recognized by Roon. If you do not see it, then there must be something else wrong with your network.
Hi @kk_chik,
Do you by any chance have an active firewall on your PC?
I would make sure that both Roon.exe and RAATServer.exe have been added as exceptions to your Windows firewall. You can use these instructions to check this aspect and these .exes are located in the Database Location/Application path.
I would also make sure that these are added to any other application or antivirus firewalls you may have or temporarily disable these firewalls to see if there is any change in behavior. I would also reboot everything, starting from the Network, then Core then DAC to see if it helps.
Thanks all for your reply.
After resetting firewall, it works for Linn as network device.