Roon Core Machine
Betriebssystem: Manjaro Linux
KDE-Plasma-Version: 5.24.3
KDE-Frameworks-Version: 5.91.0
Qt-Version: 5.15.3
Kernel-Version: 5.16.14-1-MANJARO (64-bit)
Grafik-Plattform: X11
Prozessoren: 16 × AMD Ryzen 7 4800H with Radeon Graphics
Speicher: 62,3 GiB Arbeitsspeicher
Grafikprozessor: AMD RENOIR
Networking Gear & Setup Details
FritzBox 7490 Ethernet
Connected Audio Devices
see Hardcopy
Number of Tracks in Library
2.758.183
Description of Issue
Dual-booting Windows 10 and Linux Mangaro on the XMG 16 × AMD Ryzen 7 4800H with Radeon Graphics knows every audio device under WASAPI (Windows 10) and ALSA (Linux Manjaro).
Roon.exe (Windows RoonInstaller64-923) occasionally loses the ALSA devices. Incorrectly offers WASAPI Devices that can only run directly under Windows 10.
Uninstalling the Windows GUI and reinstalling it fixes it again.
This misbehavior could be partly responsible for other audio problems and crashes reported in the community, because if an audio device is not found, remains incorrectly assigned via IPs, there are crashes, title jumps or dropouts when streaming.
Sometimes incorrectly offers WASAPI Devices on XMG (this PC)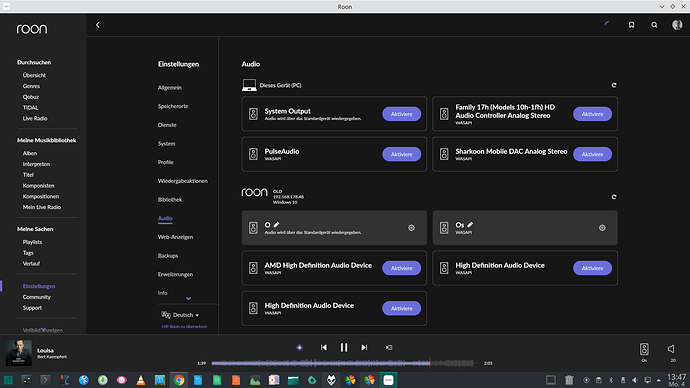 Working ALSA Devices on XMG after new Installation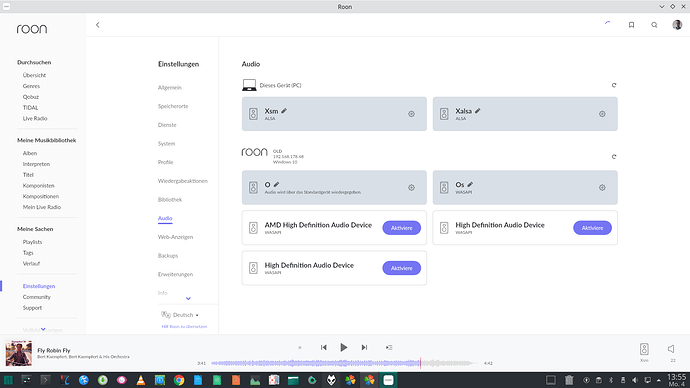 correct ALSA-Devices before activation