Roon Core Machine
ROCK (Version 1.0 (build 227) stable), Intel NUC, i7, 32 GByte
Networking Gear & Setup Details
n/a for the issue
Connected Audio Devices
Mytek Brooklyn Bridge (firmware 1,44)
Number of Tracks in Library
I have no idea but I have 2365 Albums in my local Library
Description of Issue
Album List crashes regularly on my android devices.
Switching to Tidal, Artists then back to Albums causes the issue (but there is not a specific way to generate this issue, mostly it happens when I switch to e.g. chrome and then go back to Roon and then try to open the Albums TAB). On the display all is empty but only the stings My Albums and below 0 of 2365 is displayed. The only solution is to restart kill the crashed Roon app instance and then to restart. The issue appears after the update to the current version.
NB: All other TABs are fully accessible and display the expected information!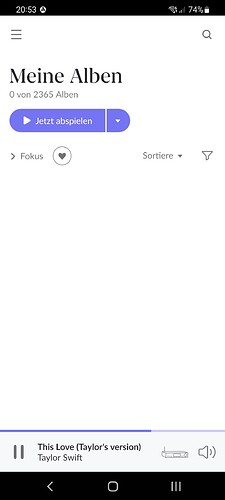 Update 23.05.2022:
@support any ideas?
here an screenshot more (made just few minutes ago):