Roon Core Machine
Mac Mini 7,1
Dual-Core Intel Core i5
16 GB RAM
Networking Gear & Setup Details
Router is Eero Pro
Switches (1 Gbit)
Buffalo
D-Link
Roon Core is wired.
Not relevant here as problem is local to Roon Core Machine, and problem is about finding local files.
Connected Audio Devices
Core machine has a USB Bel Canto RefLink attached.
There are 3 Raspberry Pis, wired and wifi running roon endpoint on DietPi v8.14.2 (current).
Number of Tracks in Library
15000 tracks
Description of Issue
The problem is all the files in my local library have disappeared. I believe it started when I updated the Roon Core to 2.0 build 1223.
All local tracks were listed as "unavailable". Interestingly, even streaming albums (e.g. Qobuz) which I had added to my library were listed as "unavailable". Everything (again, e.g. Qobuz) I had not added to my library remained available and playable. FWIW, I do not add tracks to my library, only albums.
When I screen-shared in to my headless Roon Core machine, I saw a spinning arrow top-left, and clicking on this brought up a dialog complaining:
Adding music to library: Of 62 tracks, 62 added, 0 identified

I have no idea what these 62 tracks are. As far as I can remember, I haven't added anything in 2023. I mostly stream now.
I read in these forums that rebooting would help. It did not. No change.
My files were still on disk–yay–and still in the iTunes folder. So I moved them out according to https://help.roonlabs.com/portal/en/kb/articles/faq-how-do-i-move-my-collection-to-a-new-folder-hard-drive-or-nas-will-i-lose-my-edits#Preparation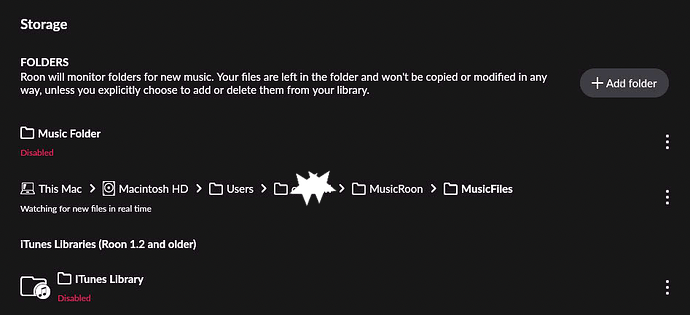 After I added the new home for music files, and wait for Roon Core to scan, my local files were available! However, the spinner in the top right remained. So I quit Roon Core and rebooted.
After the reboot, my local files are once again gone. Mostly they are unfindable in the Roon Core UI, but some I did find as recently added to library are "unavailable". They remain on disk–yay again. If I "Force Rescan", this takes no time at all, and has no effect too.
Weirdly, when I look at "my" Library tab, all the files are listed are with the Tidal logo. This is not correct.
Finally, the spinner top right is back, with the same dialog posted above.


Please advise how to recover from this.
Carl