How quickly Roon forgets…
After 9 days of scanning my initial library of nearly 49,000 tracks (sans audio analysis, BTW), I was happy that it completed yesterday on July 8. I even started to manually merge albums and fixing issues that Roon couldn't handle. During this process, I realized that I had 900 tracks on my local SSD c: drive.
Though it may not be the best option, I am using Google Drive (g:) and One Drive (m:) to store my library. I moved the 900 tracks to my g:\ drive. As expected, Roon scanned to find these tracks.
But, why is it rescanning my whole library again? It makes no sense to me. I'm back to around 16k tracks.
Roon seems to play much better from my cloud drives better than JRiver or anything else, but repeated mass scanning renders Roon unusable to me especially if it takes days. Did I miss something. Is this normal?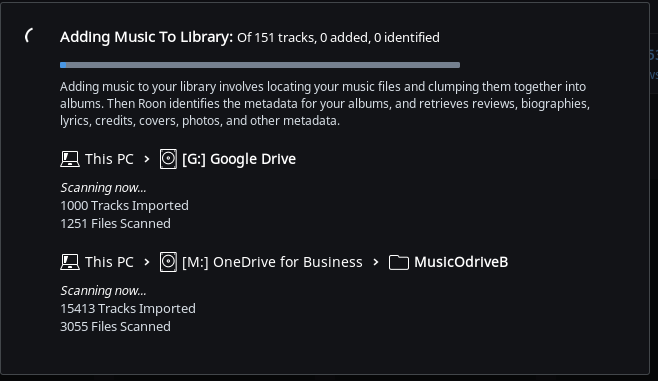 Roon 1.3 (234) 64bit
Windows 10
Lenovo G50-45 4gb RAM, AMD quad-core 2.4ghz
Google Drive and Microsoft One Drive mapped via NetDrive
Thanks in advance for your help.