Saw a reference to this on Facebook.
Will this allow control of Roon or only Lumin app?
Yes, it will be functional when using Roon too.
When - As soon as we finalize the packaging, distribution schemes and logistics. We already have the first batch of actual hardware ready.
All past and present models of Lumin network players and transports are supported.
Price is subject to change, tentatively USD2xx.
Roon compatible.
The remote control package comes with a USB IR receiver in the shape of a half sphere, for those who wonder how existing Lumin models can be operated. For Lumin X1 and T2, since there is only one USB port, if you plug in the USB IR receiver, you do not have another port for USB storage (not usable with Roon anyway) or USB DAC output. For the M1, if you already use one USB port for the RCA input adapter, using the other USB port for the USB IR receiver would meaning leaving no USB port for USB storage (not usable with Roon anyway). There should be some USB hub that could workaround this limitation, but I cannot guarantee that because different hubs do behave differently.
The remote control and the receiver are made in Austria.
Hi Peter, hi Angus. Does this mean I wouldn't have to use an iPad/iPhone at all? Maybe just choose a playlist on it, then get it out of the way and just use the remote for volume up/down (Leedh), skip tracks, play/pause etc without even having to look at a screen?
If so I'm game

The remote has buttons for volume up / down / mute / play / pause / next / previous / shuffle / repeat / standby. For using these remote functions, you don't need to pick up the iPad.
Anything other than these (e.g. playlist adjustment) will still require the iPad.
Already asked the distributor in my country to order one


Thanks Peter.
This is FANTASTIC news. Can't wait to get my hands on one.
Now if only the developers at Roon would stop making excuses for why they can't deliver a portrait view on a regular ipad…
I hope they are working on many other enhancements and not waste time on developing portrait mode.
@wklie Will infrared signal be the only solution for connection?
It's will not be possible just to connect via WiFi, when the Roon app for instance already can control the internal volume in the Lumin app? This way you can turn volume up/down no matter where the Roon Endpoint is placed, or wherefrom the Remote Control is being handled from.
Thank you in advance,
The Lumin physical remote uses infrared.
To use WiFi you can use a device to run Roon Remote app. Or someday someone else may create another solution.
Love it Peter, hopefully mine will arrive in my region (S. America) sooner. I know this Austrian beauty is not meant to sell in masses, or give you gents at Lumin a lot of $ utilities. But I think it is nonetheless a very good idea, and a perfect addition to my digital system. Cheers
Nice. Congratulations!
To be honest: I would have loved to have the option for a smaller, simplified remote (for Roon use only), with just these controls: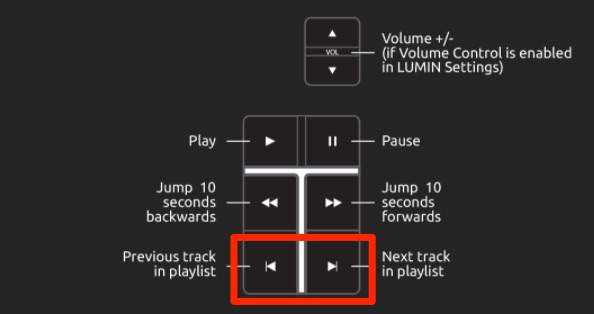 Anyhow, luxury problem, I know, one question: Do the "Previous track" and "Next track" buttons also work with Roon? Or only with Lumin playlists?
Very excited–my dealer ordered mine yesterday. About a 3-week wait in the USA (according to his estimate).
For the people interested I managed to have a Logitech Harmony remote control Roon and then control the Lumin. Many features can be available and tailored like for example using numbers in the remote to automatically play selected playlists, radios or even particular albums. Maybe this is something planned for the numbers in the Lumin remote but just wanted to share that this already exists, you just need to do some configs
Previous / next tracks can be configured to command Roon/Lumin
Fast forward / rewind can be configured too
I think you can also configure shuffle / repeat but I don't use it so I don't know for sure
This is helpful if the volume control is on your amplifier and helpful also with a Lumin if you set the volume control of the Lumin as device volume in Roon
See this

And with the Logitech Harmony remote you can in the same time command your amplifier, preamplifier and almost every device in your room (or even not in your room : with Logitech Harmony, commanding Roon is done over the wifi so need to use a USB receiver which is better for some configurations)
I have been using this with Lumin and Roon since more than one year FYI
And if one day you decide to leave Lumin for a Roon Ready competitor of which streamers work flawlessly with a non Linux DAC (please see below), the Harmony Remote will still work so it is an investment
And yeah also maybe one day you decide to leave streamers and just connect your PC to your DAC to avoid all this Linux/Windows/Mac mismatches. Just know that Logitech Harmony can control your PC as well using Bluetooth this time. So it would be even possible to configure buttons to enjoy surfing on Roon (you can set a button to go on playing now page, set a button to go to queue, a button to toggle playing now display between album art, artist view and lyrics - any keyboard shortcut is configurable in the hardware remote control). All this info just to let you know that Logitech Harmony is a very capable device with half price of the Lumin I think
While the Harmony setup will work, I'm guessing I'll be up and running a lot faster with the Lumin remote.

I've also ordered the remote last week.
The price is (sorry) really high, but for users, which are not using a Harmony (I've two systems with a Harmony and there I'm using also the deep harmony extension, but on my main listening system, I've a Philips Pronto Pro) the Lumin Remote Control seems to be a fine feature.
I can't find a price on line. What is the price?
Thanks.
So i decided to get the T2 and it should be in my hands by Friday. This is in addition to the D2 I already have. I'm curious to try the Leads volume to see if I can get rid of a preamp. If that goes well then I will look at the controller.