Roon Core Machine
RoonServer 1.8 (build 943) stable
Ubuntu 20.04 LTS
Intel NUC NUC8i3BEH
Intel i3-8109U CPU @ 3.00GHz
8GB RAM
Samsung EVO SSD NVMe M.2 2TB
Networking Gear & Setup Details
Wired ethernet 1Gbps D-Link switch
Connected Audio Devices
MiniDSP SHD on wired ethernet
Number of Tracks in Library
25,000 tracks
Description of Issue
A couple of days ago, I was searching for an artist, I think it was The Rolling Stones, and the Mac client hung. I tried restarting the client, but it is now hanging immediately upon starting and I have to kill it. 1 cpu core is pegged at 100% while Roon client is running. I tried also restarting the core to no avail.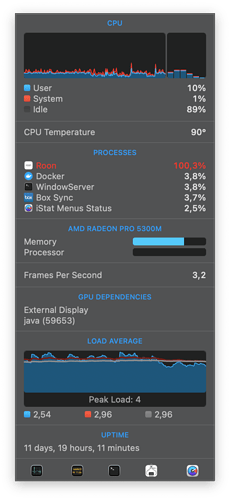 This problem is specific to the client on this Mac computer. Other clients (iphone, ipad) have no issues. I have another Mac and the problem is not happening there.
There are no network issues on this computer, this is my main work machine and I use it constantly without any problems.
The client hangs in a slightly different way first time it is started after core restart – compare the first screenshot (immediately after core restart) and the second (every other time)