Roon Core Machine
iMac 2020
Networking Gear & Setup Details
Google.Nest with 200mpis fiber optic ISP
Connected Audio Devices
iMac–> Ethernet → Raspi4/Ropieee 2022.02 → Gustard X16 — > preamp/amp/speakers
Number of Tracks in Library
12,000
Description of Issue
In classical music, when I scroll down from the composition to "All Recordings" usually what I look for is the orchestra and the performer. Here's an example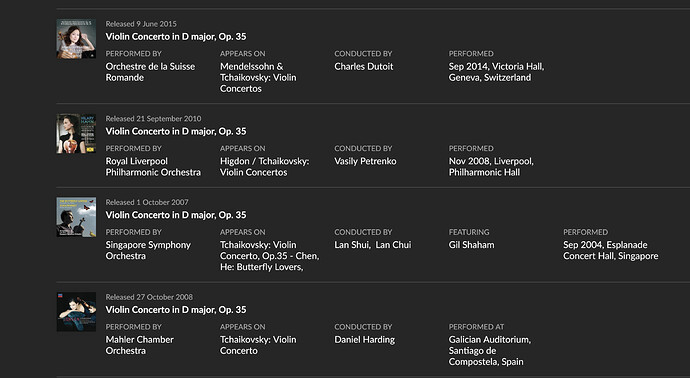 Sometimes the artist (in this case a violinist) is listed under "Featuring" but often it is blank and a few clicks are necessary to find the detail.
It would be great if the solo artist (pianist, violinist, etc) could be always listed as is the orchestra and conductor.
Turns out if I use Roon to list the tracts of the composition the primary artist is listed…so it seems it is missing only from the list above and is not a metadata problem.
Please see this thread. for a complete discussion