Content you're reporting an issue with
[Symphony no. 9 in D minor, op. 125 "Choral"]
Have you made any edits to this content in Roon?
No
Is the album identified in Roon?
This is not an album, this is a composition
Is this content from local files, TIDAL, or Qobuz?
Not applicable : composition description are on Wikipedia, and metadata links in Roon
Screenshot of import settings
Demonstration of no Wikipedia for this composition :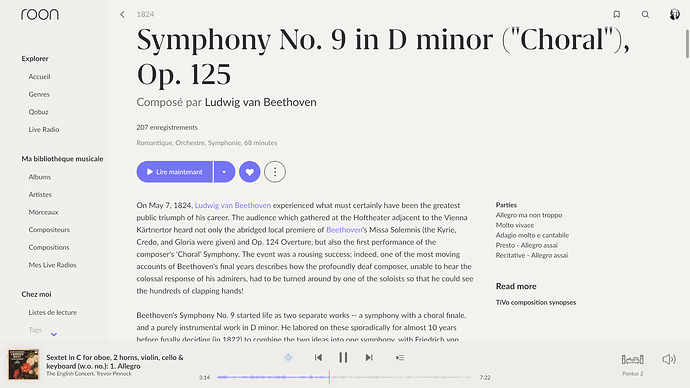 Description of the issue
I have opened a subject about links Roon <=> Wikipedia (Linking new Wikipedia article to Roon?) which is now closed. I marked the thread solved too quickly, trusting the answer. But the answer (a Roon composition is linked to Wikipedia, if Musicbrainz have Wikidata link) seems necessary, but not sufficient.
For example, the universally known 9th symphony from Beethoven, have no link to Wikipedia in Roon, despite having Wikidata link in Musicbrainz : Symphony "Symphony no. 9 in D minor, op. 125 "Choral"" - MusicBrainz
I would want to understand how the link Roon => Wikidata works exactly. What is the problem here ?