Please help,
i searched around but i cant find a logic answer which settings i have to set in my Trinnov Altitude32 when i play MQA Streams to my audio system.
The network source is the Trinnov Altitude32, then go over the Meridian271(basicaly a adapter) to my Meridian DSP(speakers).The speakers have standard D/A converter refer to my knowledge.
As the Altitude cant decode MQA(refer to Trinnov support),
"Enable MQA core decoder" have to bet to encode the MQA stream.Sounds "logic".
But then are that choices for "MQA capabilities" for the Device(AL32):
a)No MQA support
b)Decoder and renderer
c)Decoder only
d) Renderer only
So "for my thinking" i have to choose a), as the AL32 dont decode or render.
BUT,IF the questions is:
What should the core decoder do(ROON sw decoder ?)
i have to choose c) or b)
Option c) as ROON can sw decode, but cant tell the Meridian DSP "how to render" as they are not MQA_D/A`s
Option b) as ROON can sw decode and can try render as during the "calibration" routine(Room correction) of the Altitude32 ,
the Altitude receives the sound of the speaker and can compare the time smearing or out-impulse of the speaker.
OR, ROON already know the "time smearing" of the Meridian DSP and can process with that knowledge.
So, the first main question is what Roon means under "Device setup" with the question/Option "MQA capabilities" ?
Included is screenshot from the ROON sw page
Thanks for any "clear" light on that issue.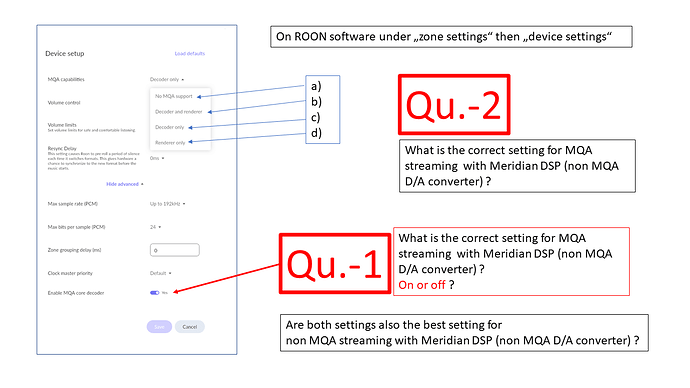 EDIT:
Changed the option letter from d) to b) so it make sense