Seen this issue a couple times now. Looping (spoiler alert) in @support to figure out what is going on here.
Describe Your Setup
The core is running on a Nucleus+. Operating system: Version 1.0 build 158. Roon Labs Software: Version 1.0 build 6. Roon Server Software: Version 1.5 build 323.
The remote is running on a Macbook Pro 13" 2016 (2.9 GHz Intel Core i5, 8 GB 2133 MHz LPDDR3, 256GB NVMe SSD). Operating System: macOS High Sierra 10.13.5. Roon: Version 1.5 build 323.
The dac is a Totaldac d1-dual attached directly to the Nucleus+ via USB cable.
The local network is 1Gbps ethernet. Everything is wired with cat6 cables to a Linksys LGS108 switch, which is in turn hooked up via cat6 cable to a Linksys EA7500 router. I have a 1Gbps internet subscription.
Describe The Issue
I often have a single track in the queue being played over and over again (loop single track). When I'm done with listening, I simply turn off loop by clicking on the toggle button and let the track run its course until it's done.
I've noticed on 2 separate occasions that the track keeps on playing, even though the queue is empty and Roon indicates that nothing is playing. The expected behavior is obviously that my dac does not play the track.
The last time, the track being looped came from Tidal. The first time I dare not say. The queue screen when the issue occurs looks like this: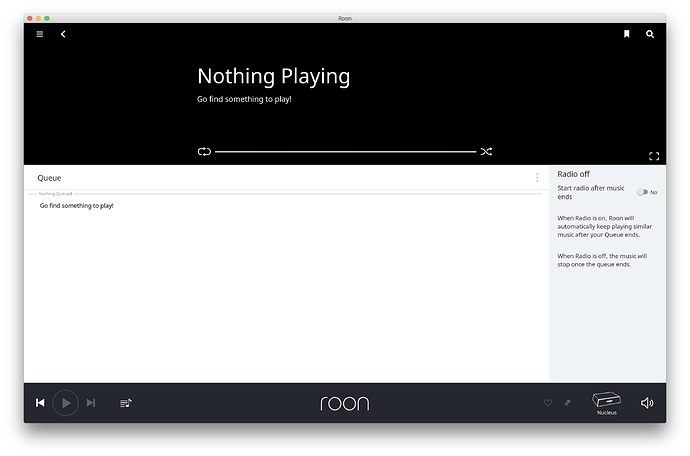 The only way to stop playing the music, is to repopulate the queue with a track and play / stop it.