Hi,
I was looking for a solution to browse and to listen the music I have on a NAS.
Of course I tried upnp/dlna protocol with the devices I already had. But it wasn't friendly and thing important it wasn't gapless.
So, since a while I heard @John_Darko regularly talking about Roon. Then I decided, in this period of lockdown to test Roon.
I made different setups. At the beginning, I have installed Roon on my Macbook which was directly connected to my Qutest.
Few days later, I installed Roon on my NAS and I used an iPad or the Macbook as an endpoint.
And finally, because my NAS wasn't enough powerful, I installed Roon on an Intel NUC.
As you guess the final setup is Roon on NUC, iPad as an endpoint and an iPhone to control.
In the same time I also subscribe to Qobuz.
My point of view after these 9 days of test is mixed.
Roon is a great software. you can browse your albums easily, you can bounce from an album to another.
You can search easily. You have gapless listening. You see clearly what is the path of the sound.
The information you have about a album or an artist are very enjoyable. There is also the concert date for example.
And the way that Qobuz is integrated is also a very good thing.
So Roon is very enjoyable, it give you the possibility to rediscover your library.
But, because, there is a but, there are some many irritating things.
The application crashed regularly on iPhone. Ii also happened on the Mac.
When Roon was installed on my Nas, each time I wanted to rename a device via the iPhone the app crashed.
Or I wanted to test airplay to my appleTV. I have never succeeded to stream to the AppleTV. The 4 numbers code never worked.
I also had some issue with the iPad as an endpoint. The music regularly stopped. It seems ok now.
There is also several things strange like the inability to swipe to see the different album on the discovering tab. You have to use the arrow.
Also on the iPad, there is no portrait mode for the model I have.
Or for example to manage the queue list where it's impossible to click on the 3 points button because there is also the cross button :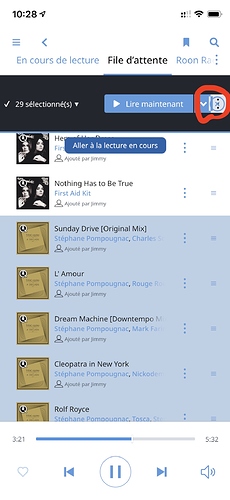 One more thing, when you have the path sound, you have a link to the user guide of your device. For the Qutest the link is broken.
To sum-up, I like the application and I understand why so many people use it. As I said it's very enjoyable. It makes the job in an efficient way. And it's compatible with lot of things. For this reason I decided to subscribe for one year. And we will see in one year.
But I don't understand why there is some many issues, bugs.
I think it's a high-end application and it's not acceptable to have so many problem.
When I see the number of problems I had in just 9 days… I have never knew that on any device/application before.
The problem is maybe partially due to the fact that Roonlabs wants to have the exact same application on the different environment.
I hope it can help for the future of Roon.
Jim