Roon Core Machine
Roon 1.8 (build1105) stable
Linux gst-msrv-bt-c1-0 5.4.0-125-generic #141-Ubuntu SMP Wed Aug 10 13:42:03 UTC 2022 x86_64 x86_64 x86_64 GNU/Linux

H/W path         Device      Class          Description
=======================================================
                             system         MEK Mini (NA)
/0                           bus            MEK Mini
/0/0                         memory         64KiB BIOS
/0/3a                        memory         16GiB System Memory
/0/3a/0                      memory         8GiB SODIMM DDR4 Synchronous 2667 MHz (0.4 ns)
/0/3a/1                      memory         8GiB SODIMM DDR4 Synchronous 2667 MHz (0.4 ns)
/0/44                        memory         256KiB L1 cache
/0/45                        memory         1MiB L2 cache
/0/46                        memory         6MiB L3 cache
/0/47                        processor      Intel(R) Core(TM) i5-10210U CPU @ 1.60GHz
/0/100                       bridge         Intel Corporation
/0/100/2                     display        UHD Graphics
/0/100/8                     generic        Xeon E3-1200 v5/v6 / E3-1500 v5 / 6th/7th/8th Gen Core Processor Gaussian Mixture Model
/0/100/12                    generic        Comet Lake Thermal Subsytem
/0/100/14                    bus            Intel Corporation
/0/100/14/0      usb1        bus            xHCI Host Controller
/0/100/14/0/1                input          Dell USB Keyboard
/0/100/14/0/7                storage        USB2.0-CRW
/0/100/14/0/a                communication  Bluetooth wireless interface
/0/100/14/1      usb2        bus            xHCI Host Controller
/0/100/14.2                  memory         RAM memory
/0/100/14.3      wlo1        network        Wireless-AC 9462
/0/100/16                    communication  Comet Lake Management Engine Interface
/0/100/17                    storage        Comet Lake SATA AHCI Controller
/0/100/1d                    bridge         Intel Corporation
/0/100/1d/0      enp1s0      network        RTL8111/8168/8411 PCI Express Gigabit Ethernet Controller
/0/100/1d.3                  bridge         Intel Corporation
/0/100/1d.3/0    enp2s0      network        RTL8111/8168/8411 PCI Express Gigabit Ethernet Controller
/0/100/1d.4                  bridge         Intel Corporation
/0/100/1d.4/0                bus            ASM2142 USB 3.1 Host Controller
/0/100/1d.4/0/0  usb3        bus            xHCI Host Controller
/0/100/1d.4/0/1  usb4        bus            xHCI Host Controller
/0/100/1f                    bridge         Intel Corporation
/0/100/1f.3                  multimedia     Intel Corporation
/0/100/1f.4                  bus            Intel Corporation
/0/100/1f.5                  bus            Comet Lake SPI (flash) Controller
/0/1                         system         PnP device PNP0c02
/0/2                         system         PnP device PNP0c02
/0/3                         system         PnP device PNP0c02
/0/4                         generic        PnP device INT3f0d
/0/5                         system         PnP device PNP0c02
/0/6                         system         PnP device PNP0c02
/0/7                         system         PnP device PNP0c02
/0/8                         system         PnP device PNP0c02
/0/9             scsi0       storage
/0/9/0.0.0       /dev/sda    disk           250GB Samsung SSD 860
/0/9/0.0.0/1     /dev/sda1   volume         1023KiB BIOS Boot partition
/0/9/0.0.0/2     /dev/sda2   volume         232GiB EXT4 volume
/0/a             scsi1       storage
/0/a/0.0.0       /dev/sdb    disk           SD/MMC/MS PRO
/0/a/0.0.0/0     /dev/sdb    disk
/1                           power          To Be Filled By O.E.M.
/2               ztc25inrd6  network        Ethernet interface
Networking Gear & Setup Details
Unifi DreamMachine Pro, Switches, Wifi(only for phone streaming), APs
Connected Audio Devices
N/A
Number of Tracks in Library
173k
Description of Issue
Issue does not affect my mac book pro, or my Pixel. This only seems to happen on my Win10(1.8 build 1105-stable-64bit) machine…
When I go to the My Tags section, it only displays the first (or last, depending on how the list is sorted) 56 entries(14 rows of 4 albums).
I do have high DPI monitors(2560x1440), but have not messed with the OS scaling because this issue does not seem to be present on any other screens(eg. albums view scrolls from 0->Z, artist view scrolls from " to non-english characters, History seems fine).
bottom of tag list sort ascending…note it ends at "singles-unidentified".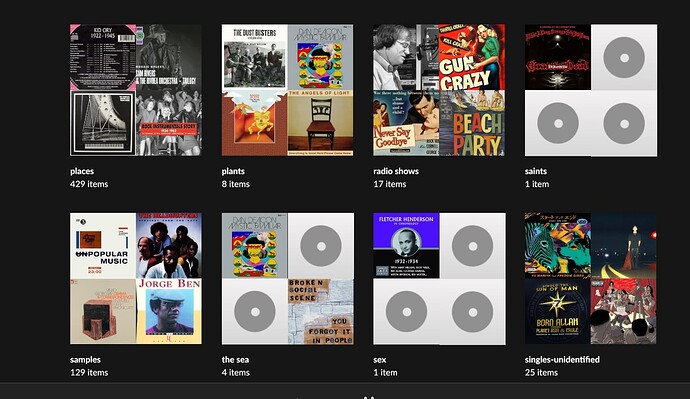 top of tag list if sorted descending…note singles-unidentified is present, as well as the tags alphabetically after that item.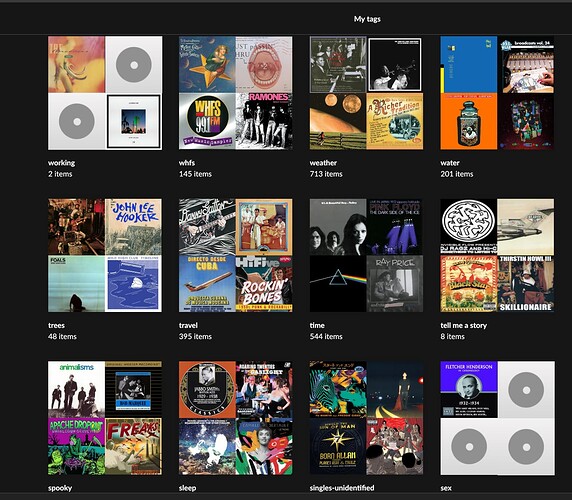 Thanks!