Roon Core Machine
NUC running ROCK (current beta) – same version as Remote (see below).
Networking Gear & Setup Details
Connected Audio Devices
The one in question is a NAD C368 with BluOS 2i MDC module.
Roon Remote is running on Windows 10. Roon 1.8 (build 864) beta (64 bit).
Number of Tracks in Library
Description of Issue
I went to set volume limits for this device. The "Device Limits" reported by Roon are not correct. The unit itself displays volume up to +12 dB. That is 34 dB above the limit reported by Roon!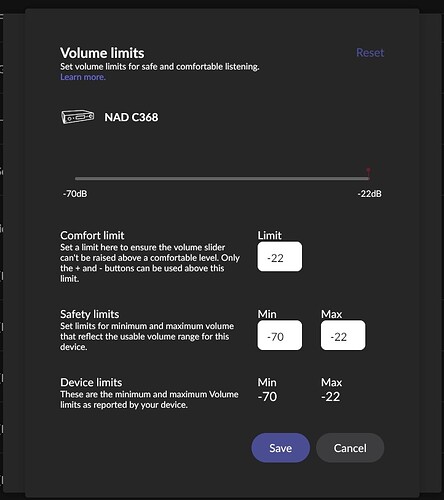 Don't know if the issue is with NAD or with Roon or somewhere in between. It limits maximum volume rather severely.