Has this shown up on the Roon benches, or at least in the pipeline?
Giving this thread a nudge. I'm increasingly interested in this product.
Interested in this product too but their website and product manual does not indicate Roon Ready.
I contacted NAD support and was told that the T 778 has not been released yet. That if not Roon ready at release, it CAN be with a firmware update.
I have the t 778 and roon with raat is working perfectly
@support
Any news on when the T778 will be certified? The C658 and M10 were today. I guess I assumed the T778 would be as well
@Brian6751 - Generally, we can't comment on certification progress. Certification is a collaboration between two companies and requires testing + technical feedback from both our end and the other company.
If you reach out directly to the manufacturer, they might be able to provide some more details of how certification is going on their end, but on our end the answer here will always be the same - the device will only be certified once it's ready and passes all the necessary checks.
Still not certified. Just submitted a request to NAD for a certification timeframe.
Here's what NAD told me when I submitted a support request before purchasing my T778. A few days ago an NAD employee told me on a Facebook group that the T778 is "in the queue for certification at Roon. This is not an NAD fix :-)". Let us know what they tell you
Got the exact, copy and paste, response yesterday!
At least it sounds like it will happen.
Still waiting but no workaround to use the NAD T778 with Roon? I can't enable non certified devices? Still have to use BluOS instead of Roon.

or switch to Shield.
Talk to NAD. I think you've already had a "no comment" from Roon above.
Just finished installing and updating my new NAD T778. BLuOS working fine but still not certified as of Dec 24 2020.
Frustrating but I somehow appear to have come up with a work around. I still need to use it a while to see functionality. It appears in my audio devices as "via Airplay", tried that and it's working, though I think it doesn't have full, seamless compatibility.
Hopefully NAD and Room can sort this out.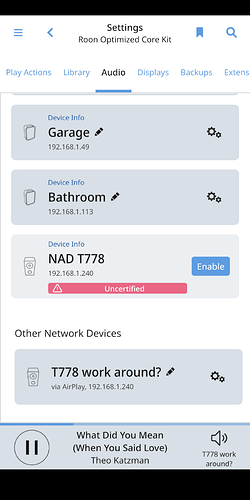 I've checked with Bluesound and the holdup with the T 778 is Roon. If the product comes up as "uncertified" then it's waiting on Roon to do their part.
So sounds like Roon needs to "flip that switch".
Hi Support
This is starting to sound like the old Microsoft vs IBM run around, hard to believe that two companies that have sorted out their issues so well over the last few years are getting hung up on this issue. I could understand a few months delay but this is getting truly frustrating. Am I going to have to add a Chromecast Audio to my Top end BLuOS enabled NAD AVR? That's like getting a Porsche but the garage door won't open so your left to drive the Honda. Come on Roon, you can get this done. BTW I'm sending this to NAD as well of course. Hopefully you both get this resolved and make many if your shared customers very happy.
Yeah this is frustrating, As ridiculously expensive as Roon is I expect a lot more when it comes to things like this.
I will not have any problem ditching Roon once my year is up and stick with the built in BlueOS.
Update from NAD/Bluesound via email support.
Sam R. (Bluesound)
Dec 31, 2020, 1:30 PM EST
Hello Sylvain,
Thank you very much for your feedback, it is sincerely appreciated.
While we are not currently able to give timeline on this release, I can promise you that we our engineering team continues to work diligently on ROON certification for the T778.
I will pass this forward your feedback to our team, and in the interim thank you for your continued patience and understanding.
Thanks for #LivingHiFi , and I wish you a wonderful new year.
Sam R.
Support Crew Team Lead
Bluesound NAD Electronics PSB Speakers
support@bluesound.com
Well, at least it sounds like they know that works needs to be done on both sides.
I can understand your frustration! On the plus side, this has made me spend time figuring out the BLuOS app and actually link my ROCK\Data to it. Now I can at least have access to my files without settling for Airplay.
I'm all in with ROON, lifetimer, so I will be sticking to it. Roon definitely has a much better interface, again that car anology comes to mind🙂
I am amazed that after all these months of obviously very deep work on it, the certificate has not yet been issued. Is the BluOS implementation really so different from that of the M10? I too find it unacceptable to spend a lot of money on the Roon and Qobuz package and then resort to a makeshift solution like Airplay. Disappointing.