This was in a What Hi Fi Circular
Thanks Mike $499,- many options for a good price. No remote control however, that's a deal breaker for me.
Cheers John
I was a little surprised by the lack of balanced headphone jack at that price point.
I own the original model and my son still uses it fed by a Chromecast Audio.
Mike
I had the DAC Magic 100 , I swapped to get a headphone amp, I got the Audiolab M DAC
CA missed a trick with no headphone amp on the CXN
Mike probably true, everything seems to have a price point and I guess the BOM has a big impact on that.
I have now got used to having Pi based endpoints feeding DACs now and as long as I have somewhere to put it, they are better situated.
All our needs are different, so we are lucky that there are so many options available.
CA seem to be making some good products at the top, middle and (near) bottom of the market at the moment.
Mike
I really only listen on headphones these days , don't upset the neighbours. Once all the COVID nonsense has finished we will probably move smaller and even more restrictive
The CXN was key when I fed an amp. My system is really RPi > Allo DigiOne > M-DAC. HD 800
The CXN is really superfluous I do listen a bit on DLNA from JRiver
General music is a sound bar , alas …
Really looking forward to this CA DacMagic 200M. Hoping it gets the Roon Tested/Ready flag quickly.
Joe I think Roon tested is the best we can hope for as I saw no Ethernet or WiFi connectivity options.
Mike
Agreed, no network connectivity.
But based on my previous CA Dacs I am sure it will be good
Mike
It will need a streamer in front , RPi or the like
As an aside for anyone interested, there was a situation a while back where a CA Linux mismatch was detected which meant that Roipeee could only feed USB1, 96/24 max because USB 2 192/24 didn't work. I hasten toad a CA issue not a Roipeee issue.
This was on a CXN , hopefully the new one has fixed that, CA support never did comment
I'll find the thread if anyone's interested Starts at comment 35 or so
EDIT…
I have raised this again with CA Support
Yeah I was about to write a post with a "let's hope they got the USB implementation right this time"

Curious if you get a response.
i just raised another support call asking just that so we'll see what they come up with.
The USB Spec has changed from 192 to 384 so it looks they have done something, I gave then the link from a few years back
Interesting that the box says it's "roon ready"… agreed, I really can't see how with no network connections…
Mike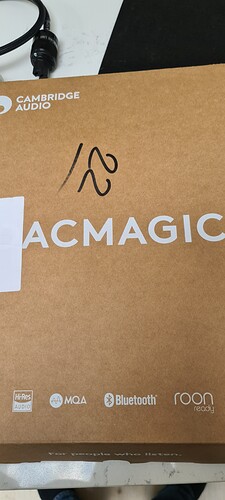 It's a DAC only , so in theory should be Roon Tested I assume. The 2 new EVO streamer amps are Roon Ready and do have network connections
Michael I agree with Mike that it should have read Roon Tested as Roon Ready implies networking on board…
I would be happy to test one of the new EVO Integrated Amp streamers as the 150 has gone right to the top of my "It could happen" want list

I've just received the Dacmagic 200M. Working fine with Roon but it's not recognised as a roon ready or roon tested device. What's the situation? It says roon ready on the box. Thanks.
As previously stated it just cannot be Roon Ready without any network connectivity.
Should have read Roon Tested.
I think you would need to contact CA customer service to see just why they are advertising and labeling a product they are selling as Roon Ready when it patently is not.
Thanks. Should it be recognised as Roon tested though? Or is that not displayed in Roon?
I honestly do not know if it got official Roon Tested status.
If it did then yes it should show but as CA already appear to have pulled a bit of a fast one by claiming Roon Ready who knows if it really is even Roon Tested.
Is it listed as Roon Tested by Roon themselves?
I do not see this model under Roon tested on the official Roon website under Cambridge Audio so possibly not even Roon Tested status.
Of course it might not be the latest updated list either.