Hello, I am hoping there will be a reasonably easy or known method of fixing this issue. I discovered an old post from late 2018:
My issue is nearly identical to the one experienced by @Michael_Steinberg in that post, all the way down to what I'm seeing in his screenshots.
Today I attempted to import about a dozen new albums. These are my first imports since early March. Nothing about my Roon installation or my remote apps (Win10 PC, MacOS Laptop, AND iPhone) has changed. For all of the new albums, they are identified correctly by Roon, but I get no artwork. Artists who previously already were in my database DO have artwork, but anyone or anything net new to my library are without images.
Note that it does not matter whether I select "Prefer Best" or "Prefer Roon" or "Prefer File" as they all say "No image" in the Edit dialog.
In addition, if I attempt to manually select the cover art from a folder on my network drive, I am unable to save the changes. I can see the image in the edit dialog: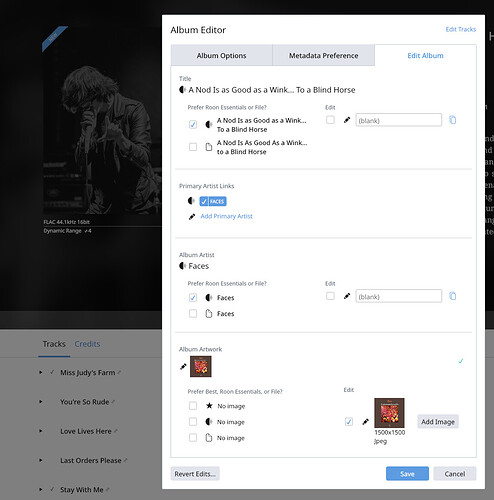 However, when I click "Save," the spinning icon comes up briefly and then goes back away without saving the change. After closing the dialog and refreshing the album page, still the same stock black-and-white image:
I have attempted to close and restart the Roon end-user app, but that does not help. And the issue exists for these new albums on all three devices where I have the Roon app installed (Windows, MacOS, iOS). Have also attempted to completely power cycle the device where the Roon Core is installed. No help.
Tried to completely remove a couple of these albums (including deleting the files from the monitored folder), and then re-imported. Same results.
Neither Re-Scan nor Re-Identify has changed anything.
The only thing I can think of that I have not tried yet is clearing the image cache. I'm somewhat scared to do that, because I do have over 1800 albums and 650 artists already in my library that are propertly displaying over 7400 images. I'd hate to lose all of those, too, if there is a bigger Roon issue.
As I said earlier, I have not made any changes to my system or any software updates to the core or clients. The 2018 topic I referenced at the start of this message never seemed to show a final resolution. I'm hoping maybe somebody can help?
Thanks!