Core Machine (Operating system/System info/Roon build number)
Roon Optimized Core Kit 1.8.783
Description Of Issue
No albums or performances found!
This problem arose with v1.8 and I have not been able to solve it. It occurs with all devices I have - Windows 10 desktop, Apple iPad and Android phone.
I do not use a streaming service, so my Roon library is solely on a networked NAS. This may be unique to classical music - I use consider each performance of a composition to be an album - but I have not looked carefully at jazz, rock and other genres.
For most performers, Roon seeme to work fine:

Roon show a list of the performers albums:

If I select the Brahms Piano Quintet, Roon shows the album details:
There are two primary artists: Emerson String Quartet and Leon Fleisher:
But, if I click on Leon Fleisher (or search for his name), I get the following:
Although Roon lists "songs" (movements in the case of classical compositions) in my library, it does not show any albums. I can correct this by clicking on "View albums in library"
Now Roon shows the albums. I am not sure, but it seems as if 10-20% of classical artists exhibit this problem - the remainder work fine.
However, the album I used as the example is missing from the list - there is no "Brahms - Piano Quintet" with the Emerson String Quartet. I have set up Roon to not hide duplicates (which can cause this issue with classical music), but in this case Roon does not think the performance with the Juilliard String Quartet is a duplicate.
I have noticed both of these behaviors since the Roon 1.8 update - this is simply an example that hights both issues.
Thanks in advance
Is there some reason why both your example albums are showing as "unidentified"? They are both certainly known to Roon. For example: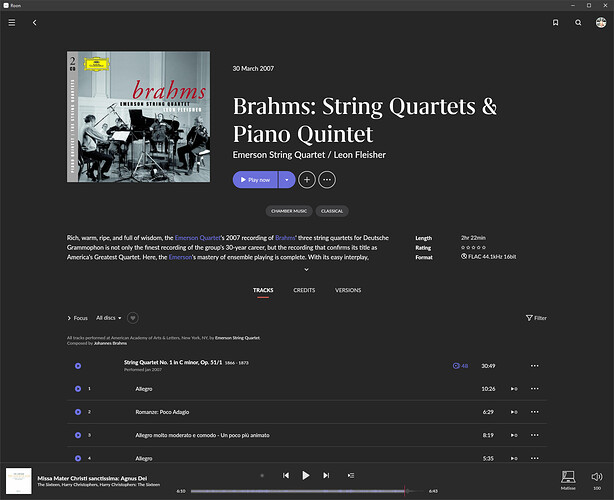 It may be that the album folder structure that you have been using is not what Roon expects to find, and so the matching process has failed in your case. You could try a manual reidentify ( the "Identify album" button in the Album editor) to see if that helps Roon.
For classical music I use the "album" field for the each composition. I also have to use identical nomenclature to make sure that all of the compositions are tagged to match. It's virtually impossible to manage a classical collection without separating or combining the physical media into compositions.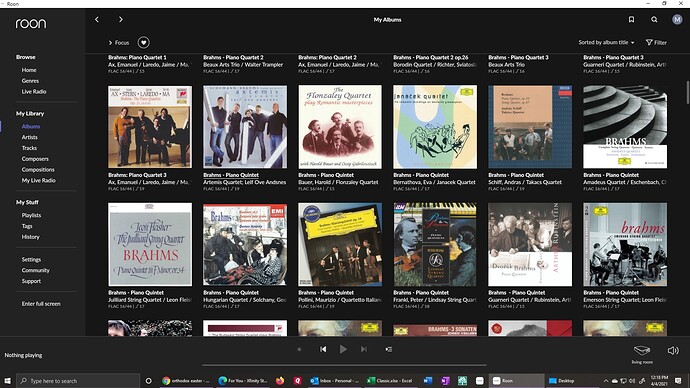 I used the same cataloging system with Logitech Media Server prior to Roon, and I think my practices are used by almost everyone with any quantity of classical music.
This worked fine with the older versions of Roon - v1.8 seems to have more problems with classical music than the previous versions.
Well, possibly that was so prior to the arrival of Roon, but the majority of Roon users will be following the Roon model of an album represented by a folder containing tracks on the album. Anything else, and you will be constantly fighting Roon, as you are discovering.
What you are seeing in 1.8 is Roon beginning to address the needs of classical users, and I suspect that is going to exacerbate the issues that you have by using the "album" field for each composition.
Geoff
I would be to differ. Any user with a meaningful classical collection will find it impossible to use a system that groups classical performances into arbitrary albums based on how they were released on physical media. Without a separating by composition, it will be impossible to find a particular performance, particularly as each CD may tag the name of a composition differently.
Regardless, I think both of the issues I identified in my post appear to be bugs, not design features of Roon. This behavior I exhibited is not consistent with the new version - the "No albums ot performance found!" only occurs in perhaps 5% of my collection, the other error in less than 1%.
I assume you have no idea what might be the cause.
Well, Roon is supposed to do that work for you with its metadata model. I'm happy to let it do its thing rather than fight it with a different folder structure from what I get by just ripping my CDs.
As for your bug - it sounds similar to one that is already under investigation by Roon Labs.
I posted in your thread just to wonder why Roon was not identifying albums and compositions that it clearly knows about. Now I know why.
yes, but you do not need to split any album tag in order to do that. You can do that easily by using other tags while keeping the physical album "intact"
I have around 10.000 classical albums tagged with WORK and PART tags and can easily identify any composition I have while keeping my albums intact.
Thanks for all of the advice.
I too have more than 10,000 classical albums and have just spent a good portion of the past 12 months updating tags and adding artwork since converting from LMS to Roon. Overall, I like the system very much and only have minor issues that have arisen since v1.8
I also have close to 10,000 vinyl LPs and locating classical music has always been an issue. I worked for a radio station in the 1970s and have used the same system used by the station for my collection. I have a database that lists composer, work, opus or catalogue number, performer(s), record label and number. If I want to listen to the Robert Craft recording of Stravinsky's Requiem Canticles, I check my database and then go my record shelves to find Columbia 7386. The station I worked for was fortunate to be able to use the mainframe of a nearby university at night in order to maintain its database of more than 50,000 LPs – I have no idea how they kept track of everything before then.
Large record stores back then used a similar system for classical musical. In America Schwann published a monthly catalogue of records in print that cross-referenced classical works with albums. I believe that the Gramophone Magazine had a similar product that stores used for Western European imports. One had to rummage through bins to see what was available for Eastern European and Japanese recordings.
Yes, the Schwann catalog was invaluable.
We have a ticket in for this issue. I can't provide any specific timelines just yet, but our team is working on a solution. Thanks for the detailed report!