Core Machine (Operating system/System info/Roon build number)
Mac mini late 2014 3ghz core i7 ram 16gb MacOSMojave 10.14.5 Roon 1.6 (built 416)
Network Details (Including networking gear model/manufacturer and if on WiFi/Ethernet)
Asus AC2900 modem/router - (cat6)TP-link T2600G-18TS switch - (optical fiber)SOtM SNh-10G switch - (cat6) MAC Mini - (thunderbolt 2 to FireWire adaptor) Weiss int202 - (aes/ebu) EMM Labs XDS1
Audio Devices (Specify what device you're using and its connection type - USB/HDMI/etc.)
AES/EBU from Weiss int202 to EMM Labs XDS1
Description Of Issue
After a month of 'no issue', today all tracks/files are playing in ALAC 44.1 although MQA hi-res or Flac standard res files are chosen. But when I switch to Play Tidal with its own app, Master tracks are playing fine. Only playing through Roon that problem occurrs.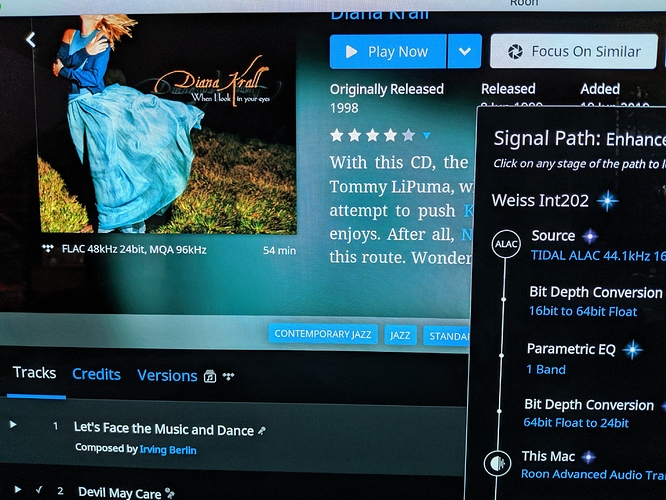 As seen from the above image. The track chosen is flac 48khz, mqa 96khz but signal path indicates that the source is alac 44.1khz.
Should be added that I enable Decoder and Renderer MQA Capabilities in the Device Setup.