Core Machine (Operating system/System info/Roon build number)
These are the parts I am using all bought from Amazon:
NUC8i7BEH
Crucial 16GB Kit (8GBx2) DDR4 2400 MT/S (PC4-19200) SR x8 SODIMM 260-Pin Memory - CT2K8G4SFS824A
Transcend 512GB Nvme PCIe Gen3 X4 MTE110S M.2 SSD Solid State Drive TS512GMTE110S
Network Details (Including networking gear model/manufacturer and if on WiFi/Ethernet)
Audio Devices (Specify what device you're using and its connection type - USB/HDMI/etc.)
Description Of Issue
Hi - the NUC I built a few months back no longer works. I requested a system reboot via the web interface, and it never came back online.
When I connected the NUC to a monitor to see what's going on, I can get to the BIOS via F2. What I can't tell is if the SSD is being recognized as I can't see it to put in Boot Order.
Is there a way to tell when I do F2 to actually see if the 512GB M.2 SSD is there and being recognized by the NUC?
I did unscrew the Intel NUC and reseated the m.2 SSD, but it didn't make a difference (I can see that the 16GB of RAM is recognized fine).
Here is a screenshot with the error message when I attempted to do a Roon Recovery as noted in another post with a USB stick (it can't find any disks to install on which pointed me to the m.2 SSD as the potential culprit):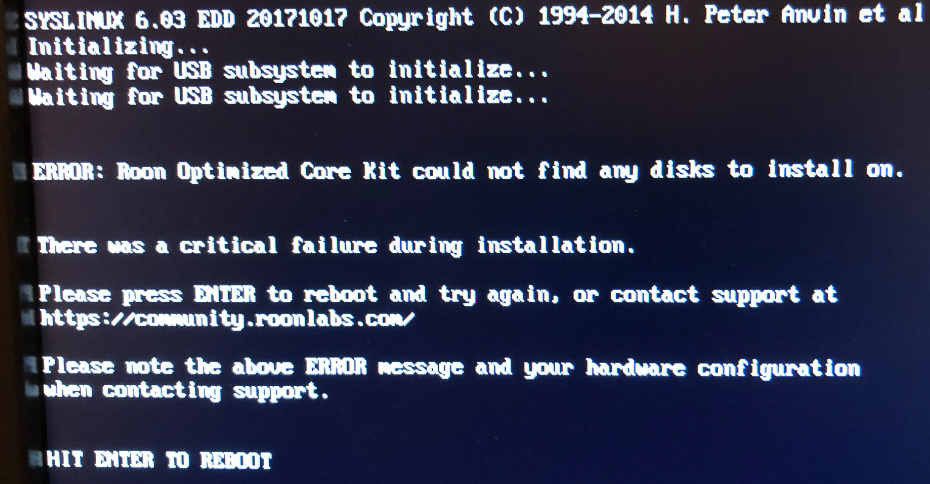 I'm hoping my m.2 SSD is still okay … I just don't know how to confirm that and how to get it to show in the Boot Order.
Thanks for any help! I miss using Roon!