My Nucleus started losing connection today.
Nucleus purchased from Moon Audio July 2018.
Music stored on internal SSD - Samsung 860.
Library size aprox. 38,000 tracks.
Currently connecting through desktop PC via USB to Modi MB DAC via wired network - TP-Link powerline adapters.
So far I've lost connection four times this morning in about two hours. Each time music stopped and Roon error message said connection lost. Web interface to Nucleus was unavailable until system reconnected. Each time reconnection occurred within about two minutes. Here's a screenshot of the Web interface.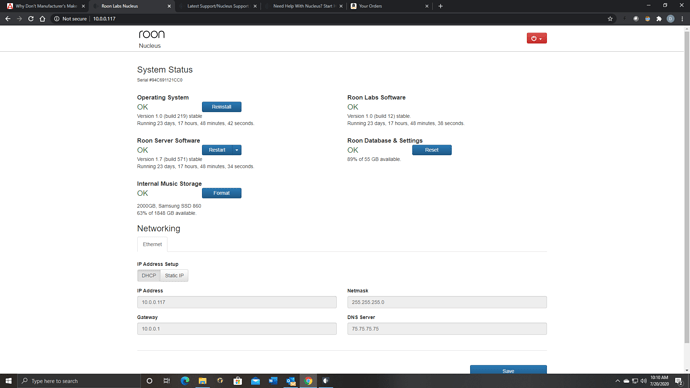 Network uses Comcast supplied gateway wired to Nucleus using TP-Link powerline adapters.
I've used this setup for two years with zero problems, so I'm not sure what changed or is changing. Can you look at my logs to maybe see what's going on? Thanks for your help.