Roon Core Machine
Nucleus (rev B) 2TB, SN 54B203985541
Networking Gear & Setup Details
Hardwired Ethernet, no VPN
Connected Audio Devices
Ethernet CAT6 connection to PS Audio DirectStream DAC
Number of Tracks in Library
5,000 tracks, Qobuz subscription
Description of Issue
My Nucleus was packed-up and stored in a POD for nine months… after unpacking today I was not able to get it up and running.
After reviewing the Roon Community support site, I tried connecting to a monitor via HDMI A, and saw the message "A bootable device has not be detected."
I then tried installing the Roon Optimized Core Kit (downloaded from download.roonlabs.net) on a USB drive, I then disconnected the internal music SSD, and plugged the USB drive into the Nucleus USB, and after booting saw the below: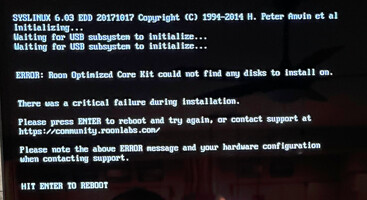 I bought my Nuclues from the Roon Store (Order #876) on 7/23/2021, including an internal 2TB SSD for my music storage.
Please let me know my options to resolve this issue and get my music going… thank you!