So you can play PCM files but DSD files don't work ?
Hi Jeff,
If the Parasound DAC has firmware I'd suggest checking you have the latest installed, also powercycling everything a few times (have heard of Mac minis behave differently after a few restarts) including the DAC.
We'll leave a notification for @mike and @vova to check in and investigate further.
DSD files only work when 'Convert to PCM' is selected. I don't have any straight up PCM files (that I know of).
No firmware options (that I can find) on the Parasound.
I just downloaded a trial of Audirvana Plus and the DSD files play just fine, as DSD64. As stated earlier, in Roon, when DSD over PCM v1.0 is selected, I only get static.
Okay.I thought you could try other file formats like flac to see if they worked in Roon.But if you only have DSD files I guess you can't do that.
Thanks again for thinking on the problem.
I've got about 600 albums in so far. All are FLAC (from 44.4/16 up to 192/24). Some originally were ALAC, but I've converted those to FLAC (consistency, I guess). All play wonderfully. As do integrated tidal albums (don't know that that matters).
I have so far purchased one DSD album…the aforementioned Bob Dylan Blonde on Blonde. It is the only album that doesn't play in it's native format. It plays fine converted (by Roon) to PCM. It plays fine as native DSD in another player.
Playing converted to PCM is workable. So is not purchasing any more DSDs, I suppose. It just seems to me that it should work, especially if it is working for others.
Thanks for the help,
Jeff
So the DSD file you bought was dsd64.Mac only supports up to dsd128 natively
Ahhhh…That's good to know.
Though how/why does it play in Audirvana?
What DSD file is Bob Dylan ? 64,128,256 ?
DSD64. Roon lists it as "DSF DSD64 2ch". Which is accurate…downloaded fro superhirez.com where it's listed as "DSD (Single_Rate) 2.8MHz/64fs".
Okay.Yes that should play on Roon.Im sure the guys at Roon will be able to figure it out as it supports both DSD64 and DSD128.
Still having this problem. I'm hoping for some advice, directions to look, setups to try, etc. from Roon support.
Thanks,
Jeff
Sorry the slow response here @JeffN – I must've missed this the first time around.
We don't have that particular unit in our test lab, which can make this kind of troubleshooting a little more difficult, but I can tell you we've seen a number of DACs that only play properly when volume control in the USB driver is at 100%.
There are a couple of ways this can go awry, but as a first step, would you mind going back to the settings that don't work and try using Force Maximum Volume instead of Disable Volume Control?
If you have volume control anywhere else in the chain, it's worth confirming that's not attenuating the volume either. It also may be worth checking the sound settings for the card in OS X and making sure that the output volume is all the way up. If that doesn't work, try getting everything right on the computer side, then power-cycling the DAC.
Let me know if that has any effect, and if not, we'll take a deeper look here.
Thanks @mike for the response. I finally got around to trying the suggestions, and no go. I've got the output on the Mac set to Parasound Digital-Audio USB set to max, and in Roon I have Parasound Digital-Audio output settings set at Use Exclusive, Use Integer, Force Max vol. Disable vol is unchecked. DSD over PCM v2.0 (DoP) and just quiet buzzy static when playing the DSD file. All FLAC files work.
Power cycled the DAC/Amp and no change. The DSD file plays on the mac, and plays through Audirvana to the DAC/Amp as well. Just not in Roon.
Bumping this to see if there are more thoughts on my DSD-capable integrated amp/dac and why it will only play DSD files through Roon when converted to PCM.
I'm somewhat resolved to not using DSD files at all (don't own many), but a few pieces of interest are only available on DSD so far (Mingus "Mingus Mingus Mingus…" and "Mingus Ah Um" to name a couple). I could commit to those and just allow Roon to convert to PCM (don't know the sq hit on that?), but would prefer being able to play natively…
Thanks.
Receiving a Native DSD stream is not the same as receiving DSD ov PCM or DOP. Make sure the Parasound is set to receive DOP not Native DSD when you set Roon to DOP.
Thanks, this gave me something to work with Parasound on.
However, the Parasound Halo has no way to make a particular setting. It senses and plays what it gets. I talked with Parasound tech and they say it should handle DoP just fine.
In fact, I've tried both Audirvana+ and JRiver Mediacenter, and both play the DSD files through the Halo just fine, so it appears to be a Roon issue.
Hey @Jeff_Nesheim,
Sorry for the slow response here. Based on what you're describing it still sounds like, for some reason, the DAC is not receiving a bit-perfect stream at 100% volume. We've seen these exact same symptoms with a few DACs and nearly every time it has to do with volume.
A few more things to look at:
Can you confirm the volume is at 100% for your DAC in System Preferences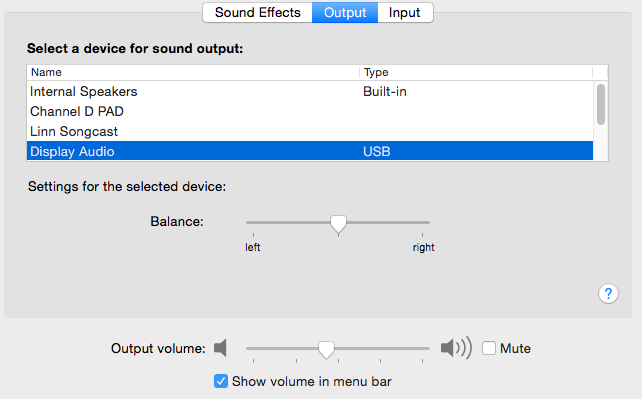 Can you also look at Audio MIDI Setup (search in Spotlight) and let me know if you're seeing a Max Sample Rate or anything else out of the ordinary. Feel free to post some screenshots.
I'm going to follow up with Parasound as well, and see if we can get some more info, or provide them a license for Roon to troubleshoot that way as well.
Thanks for your patience here Jeff!
Thanks. Yep, I have tried it with the output volume to the dac set to 100% in the sound control panel. The audio midi suggestion is something I've not considered. I'll check that out later today and report back (any particular optimized settings? Max available?)
I talked with Tony at Parasound, if you need a contact there.
-Jeff
Quick update here @Jeff_Nesheim – I've spoken with Tony as well, and he was super helpful. He's able to reproduce the issue as well, so we're looking into whether we can do some additional troubleshooting with him remotely, or whether it makes sense to have some gear sent over to Roon on load, so we can dig a little deeper.
Hard to say what's going on here, but it feels vaguely like we're making some progress

Will let you know as soon as I have some news here. Appreciate your patience!