So, I have several playlists made up of tracks NOT in my library. When that tracks gets changed by the streaming service it becomes unavailable. Fine. However, I have something weird happening mainly with Qobuz tracks. See below:


In the pic 2 tracks have become unavailable. If I try and go to the Billy Paul album, I get, no album found which is what I would expect.
If I go to the Harold Melvin and the Blue Notes album: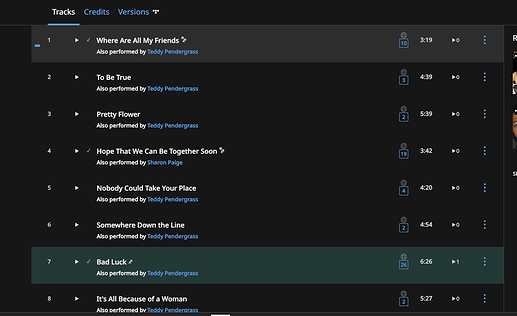 The Track "Bad Luck" which was "Unavailable" is not listed as such on the album page. However, it cannot be played; clicking the play button does nothing The track in the album should also say "Unavailable".
Also, the track in question in highlighted when I go to the album. Re-syncing with Qobuz does not change the situation.
This is not unique, I have a whole playlist of songs having the same symptoms as the track "Bad Luck". I have been encountering tracks in Qobuz albums which just won't play. Maybe it is the same issue, an unavailable track not indicated as such.