Please add HDR Lounge & Chill FLAC, it is present in Lumin app.
Is there a URL or stream address you could provide for these?
I am not familiar with Lumin radio and need more information to find the stations if possible.
Hello, It's hard coded in Lumin app.
Maybe @wklie can help.
It's there… search for LOUNGE CHILL
Edit. Wouldn't you know it… it's down at the moment.
Edit2. No, it's up. A problem with the radio curator's stream tester
Edit3. The "correct" search string LOUNGE & CHILL fails because more than 50 results are trying to be returned and Roon only shows 50.
Edit4. LOUNGE AND CHILL works. Beats me.
I didn't like the all capitals, so it's now Lounge & Chill
Just want to add a bit of info regarding the name. The HDR prefix is added to Lumin default in order to group it with several other radio stations alphabetically, from the same group that provides Hard Dance Radio.
I see no metadata on the FLAC stream, I'll add them in the next days.
I have renamed 5 HDR stations to add this prefix, makes them easier to find too.
I couldn't find the "Dance" channel in our database.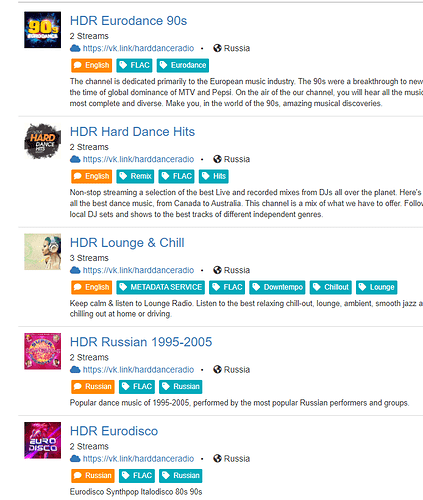 They are all FLAC, so will add them to the metadata service soon.
Thank you, found it and edited.


These stations have been down for over a week. I've unlisted them for now.
Wouldn't you know it…
They're all back online. I've listed them again.
HI
"HDR lounge & chill", FLAC stream is droping. the second stream, aac stream is working. Any ideea about the FLAC streaming of "HDR lounge & chill"?
thanks in advance
Bogdan
I can't help, is not my radio, it was discovered in Lumin app and I only make a request for adding in Roon.