Core Machine (Operating system/System info/Roon build number)
Roon Nucleus, Roon version 1.7 (build 511)
As remote I use a Samsung S7 and a PC Lenovo with Windows 10 (wifi)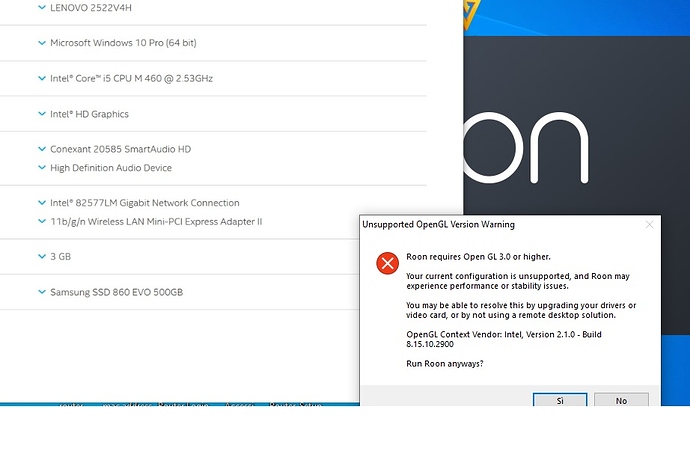 Network Details (Including networking gear model/manufacturer and if on WiFi/Ethernet)
Nucleus is connected via Ethernet to the modem/router
Audio Devices (Specify what device you're using and its connection type - USB/HDMI/etc.)
Mcintosh D1100 connected to NUCLEUS with USB
Description Of Issue
Since few weeks (maybe after the last upgrade of the roon version), when I open Roon from my PC I receive the error message
"Roon requires Open GL 3.0 or higher …" and the request for installing new driver but my drivers are already uptodate.
What can I do?
I have read some thread about Open gl 3.0 but noone helped me to approch and solve the problem.
Roon is working but, for example, if I try to export a playlist to excel I only get the first title
Please let me know
many thanks
best
manuel