I was successfully installing Roon Core on my Qnap TS-453A NAS with the latest software package and trying out the software for a couple of day. I really enjoyed the experience and became fully convinced, ready to shell out the $ 500 for a lifetime membership … until this happened out of a sudden …
"No audio devices found" Since then whenever I launch a Roon client I get this same message, unable to play any music or even manage the library. I have tried everything I can image and what others had recommended in this forum.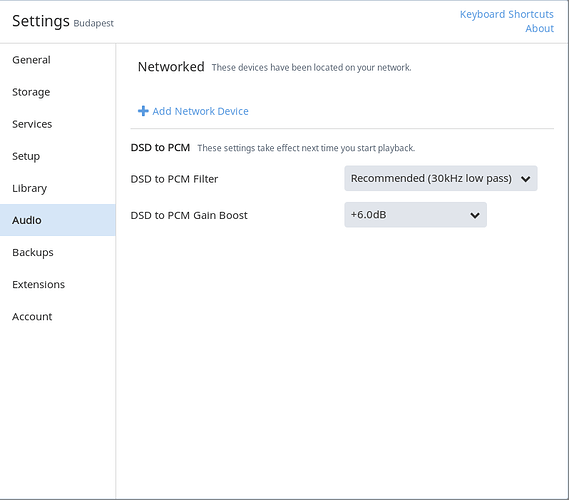 These are my settings:
Qnap NAS TS-453A running QTS 4.3.3 (build 0262 2017/07/27) with Roon Core (v1.3, build 262 V2017-02-02)
Access to server with latest Roon clients on Mac OS iMac, iOS (iPhone/ iPad)
Network: TP-Link Archer C1200 Gigabit Ethernet Router
Audio: Output via network to Denon AVR 2313 receiver
Firewall on device 3) turned on, SPI (Stateful Packet Inspection)
Situation:
I was enjoying Roon for a couple of days without any glitches. Then out of a sudden, the music stopped playing. Since then, whenever I launch a client I get the message from the Roon Core that 'No Audio Devices found'.
No other software is affected, the LAN and Internet connections work flawlessly (in daily use, the NAS is serving content 24h etc., I can stream audio to the Denon receiver without problems, all other devices recognize the Denon receiver via Airplay without problems)
No updates to the hardware were applied during the time since the first install of Roon Core on Qnap NAS
I tried the following to fix the situation (indicating if successful):
NO: Power cycling all involved equipment
NO: Logged out and back in into Roon account
NO: Disabled any non-core functionality on Qnap (Plex, Web server/ WebDAV, Firewall)
NO: Disabled any non-core functionality on TP-Link Router (NAT, Port forwarding, Dyn DNS, Firewall)
NO: Removed Roon Core from Qnap NAS and re-installed freshly (installing with the previous RoonServer shared folder still there, but also removing the existing shared folder and creating a new one)
NO: Detached the NAS HDMI connection with the Denon receiver
However, when I installed for testing purposes a second Roon Core on my iMac running on macOS (10.12.6), doing a fresh install from scratch, all connected audio devices are recognized. But this was also the case when I did a fresh install a couple of days ago on my Qnap NAS. That begs the question how long it might take before I run into the same problems with the macOS installation. But anyhow, this is not a solution to my problem, because I recently purchased a NAS just because I don't want to use my desktop computer to manage my multimedia library.
These are the devices found when the Core is installed on the iMac: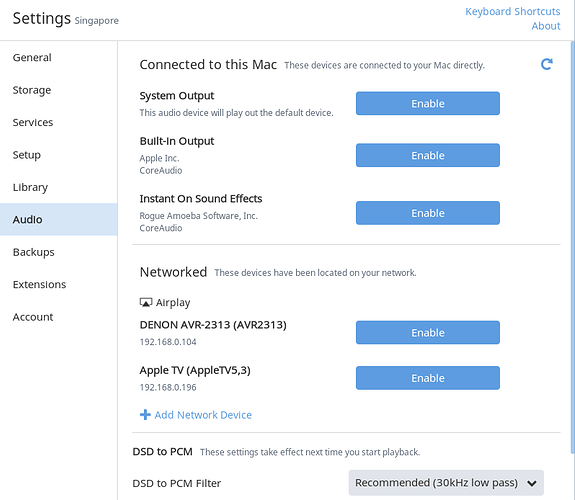 I have created a zip file of all logs and uploaded it on Dropbox: https://www.dropbox.com/sh/sefv8j514ehlgfy/AADharVcCI7tYYC6l-hcN4v-a?dl=0
I would really appreciate any support/ help/ ideas of how to fix this. Otherwise, I am afraid, I will have to postpone my lifetime membership with Roon labs until this issue is solved (from other community forum entries I could see that I am not alone, but as described above, none of the usual workarounds resolved the issue).