Tags apply to your library, but your library no longer has releases using this tag.
But this is not a tag, it's a genre, and a click on a genre also brings up albums from that genre that are not in the library.
The screenshot looks like @ChrisRoon somehow deleted the genre. There is a default genre Electronic > House > Acid House, but the screenshots don't make it clear if this default genre was used (and possibly deleted) or if it was a custom genre with the same name.
@ChrisRoon please show a screenshot where more of the genre is visible. Does it mention what genre it belongs to?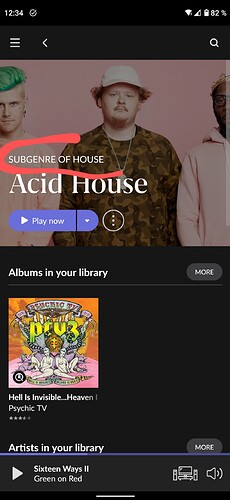 And on a tablet or desktop computer you can open the genre's "…" menu and there should be an "Edit" menu. Can you do that and what does it show?

When I go to this album and click the Acid House genre,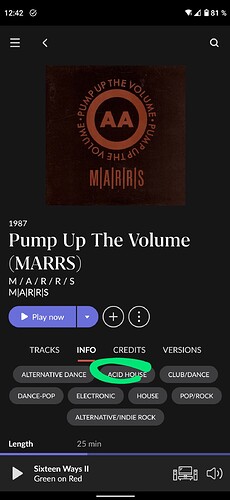 It navigates to the default genre that is a subgenre of House, i.e. the one in my first screenshot in this post
You can also try going to the sidebar > Genres. Then drill down by going to Electronic and click it. In the Electronic genre, scroll down to the subgenres, click House, then scroll down to the subgenres again. Acid House is by default the first listed subgenre. Do you see it?
Hi @ChrisRoon,
I can confirm what @Suedkiez very helpful posted above; the Acid House genre is a default sub-genre within Roon, and should populate in the Genres list when you navigate to Genre → Electronic → House


If Acid House is visible in this list to you, please include a screenshot here of the Genres Editor you can access by clicking on the three dots. It may be the case that you've customized the genre, overwriting associations with artists in Roon.
Hi @ChrisRoon,
Have you had a chance to review the above response? We're here to support if you're still getting these errors.
Cheers,
Connor
Can't edit the genres as there is no edit option but I can see 'acid house' if I browse genres electronic >> house >> acid house
Drilling through from that same track now takes me to the same place and seems to be working.
Guess it was just Roon having a funny 5 mins where it can't connect to the cloud.
This topic was automatically closed 36 hours after the last reply. New replies are no longer allowed.