Edit Feb14th:
Tried more things - Storage is now a USB 3 HDD into ROCK NUC, no NAS involved now, I've also taken everything non-essential off the network. Still getting dropouts causing random stops with only four endpoints. I've attached another logs file. 1409 on Feb 14th is the place to go.
Nick_Walker_Logs_Feb_14
Original Post:
I've been building/ expanding a Roon multi-room whole home hi-fi setup according to cash availability and Roon community recommendations for three years. Not surprisingly random stops have featured regularly the whole time. Yesterday I reached my Roon endgame, it's still happening but I have run out of stuff to blame. Over to you guys …
Core:
Intel NUC 5i5RYK running ROCK, static IP address.
Storage:
1072 albums on Qnap TS 251+ NAS network share, no streaming services. The NAS is under no strain whatsoever, the CPU and RAM never go above 40%.
Network (EE mobile broadband home router, four Ethernet ports, wireless disabled):
A BT Wholehome MESH four-disc system deals with all the Wi-Fi.
Endpoints:
Work Room – Ethernet on the Intel NUC 5i5RYK RoonRock installation, USB audio into Cambridge Audio DACMagic+.
Lounge – Ethernet Raspberry Pi 3 Model B.
Dining Room – Wireless Raspberry Pi 3 Model B+.
Garage – Wireless Raspberry Pi 3 Model B+.
Book Room – Ethernet Cambridge Audio CXNv2 Roon ready.
Conservatory – Wireless Raspberry Pi 3 Model B+.
Spare Room – Wireless Raspberry Pi4 Model B USB audio into Cambridge Audio DACMagic+.
Kitchen – Wireless Raspberry Pi3 Model B+, JustBoom Digi HAT.
Portable Raspberry Pi - Wireless Raspberry Pi 3 Model B+.
Notes:
The Core is Ethernet connected direct into a router port i.e. not into a switch, as is the NAS.
There are no IP conflicts.
This network measures as rock solid, absolutely no not-spots, and no issues running 4k video from the same NAS to all areas, bandwidth would seem to be adequate.
No neighbours or Wi-Fi interference. Two of the four Ethernets on the router are expanded with an unmanaged switch; the other two serve the NAS and the Roon Core.
The attached logs have all endpoints running, but the random stops occur regardless of the number of concurrent endpoints, although more than two appears to be (but is not proven to be) the rule.
Look at Feb 10th at 1338 for an example of the stop conditions.
All connections and cables have been checked and double-checked.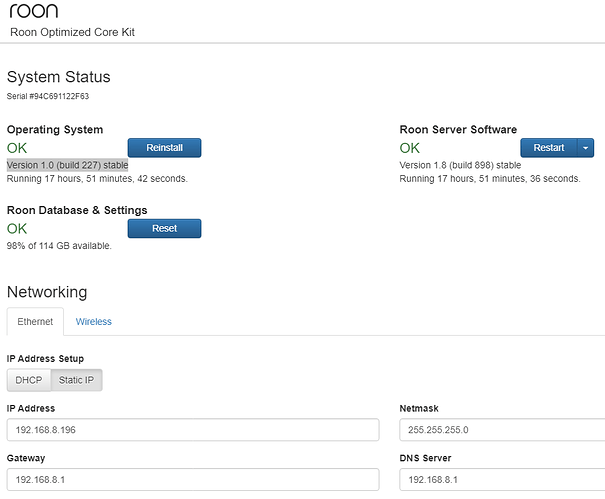 Logs