Roon Core Machine
i7-4790 8-cores 3.6GHz 12GB RAM
Ubuntu 20.04.3 LTS 64-bit
Networking Gear & Setup Details
Unifi DreamMachine (Network 6.5.55 / System 1.10.4) using Ethernet
Connected Audio Devices
iPad-Pro 9.7
6 Sonos devices (4 roon-tested)
Devialet 220Pro (roon-ready)
Windows 11-Home PC (Ryzen 9 3900XT, 32GB RAM) with 2 audio devices connected via USB: AudioQuest DragonFly Cobalt & Aune X8 Magic Dac
Number of Tracks in Library
Description of Issue
I installed RoonServer on my Ubuntu server.
Once done, I'm able to connect to RoonServer from my iPad, login, add tracks and play some music from RoonServer to the iPad.
All Sonos devices are also discovered.
However, when I install Roon on my Windows 11 PC, the 2 connected devices (DragonFly and Aune X8) are not discovered by the remote RoonServer.
I have done some investigations but nothing.
RoonServer and Roon running on Win11 PC are the same version: 1.8 (build 882)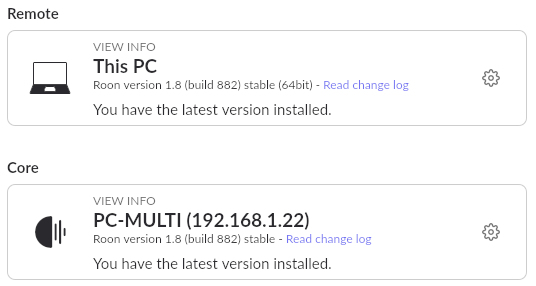 They run on the same subnet
RoonServer:


Roon on PC

Roon running on PC successfully discovered the 2 connected USB devices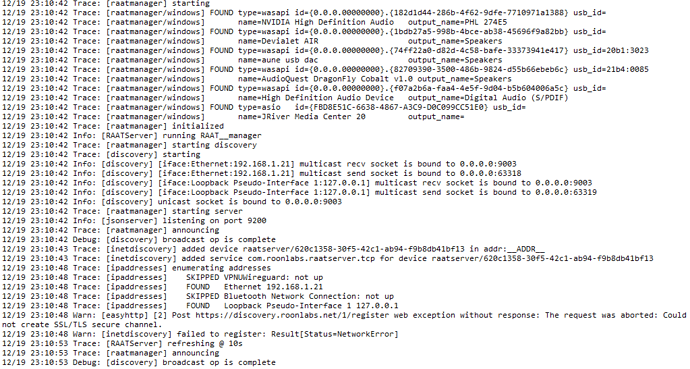 but the RoonServer never receives the "broadcast" of this discovery so the 2 devices don't appear in the list of available audio renderers.
The only issue that I see is in the RAAT log on the Windows11 PC


Thanks for your help