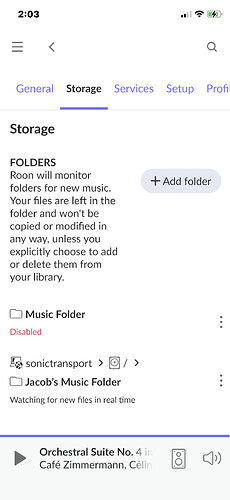 Thanks for your response, Rebekah. So I think I did what you asked. But nothing has changed. Let me explain. I added what I believe to be the correct shared folder on my Music Drive. I've included a screen shot to show you. I also tried inserting the name of the hard drive before my actual shared folder. Same thing—nothing happened. In the scenario with the included screen shot, when I hit Force Rescan, my screen flashed, and then nothing happened.
Also, you asked me to make sure to make the folder on the Music Drive a shared folder and included a link as to how to do that on a Mac. I'm not sure I've got this right, but the hard drive is attached to a Sonic Transporter i5, which I believe is Linux-based, not Mac. So I removed the hard drive from the ST and connected it to my Mac and followed the directions on the link. After reattaching it to the ST, again, nothing changed.
There has been a change since the last time I wrote. No matter what I do, I cannot access the hard drive from my Mac when it is attached to the ST. The Sonic Orbiter OS recognizes the hard drive just fine, but I cannot get my Mac to recognize it under "Network". I think this may be part of the problem somehow. Not really sure how, but it might explain why when I hit Force Rescan, nothing happens.
Sorry this is getting SO complicated.
Jacob