Core (ZENTV) is a fresh Windows 10 64bit machine - and it works fine from all clients (ios, Windows), also plays audio (via RME Fireface UCX).
Second machine (ZENMESTO) is also a fresh Windows 10 64bit machine, Roon app is installed and connects to Core fine - works as remote control. It has a RME Fireface UCX II as the audio interface.
When I try to play synced audio on the second machine, I can't enable it in Settings > Audio. It only shows the Core audio devices. However in About it shows both machines.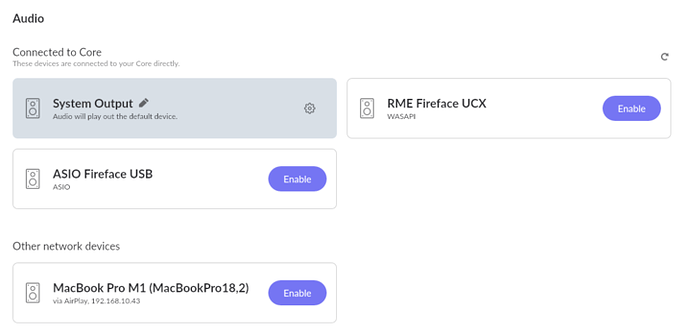 Both computers are on the same network, both on cable LAN, both in the same IP range (192.168.10.x).
I tried disabling firewall on both machines - no change (also restarted roon on both). I tried doing a regular windows file share and it works fine both ways.
What else can I do to get my second PC to work as a player?
Thanks.