Core Machine (Operating system/System info/Roon build number)
Intel NUC6i7KYK Rock / Version 1 (build 175)
Network Details (Including networking gear model/manufacturer and if on WiFi/Ethernet)
Netgear GS724Tv3 Ethernet
Audio Devices (Specify what device you're using and its connection type - USB/HDMI/etc.)
N/A
Description Of Issue
Updating ROCK does not work.
For the last few weeks my Roon remotes have been telling me to update to build 183(?) but have not been able to do so. With the release of Roon 1.7 I tried again to update to the newest version but the update got stuck at about 30% of the update bar.
To try and get round this I've tried using a flashed USB stick with the latest ROCK downloaded from Roon and using the recover option from the USB. I made sure that the bios was up to date and that the bios options were correctly selected.
I got the following error message from the NUC during the update: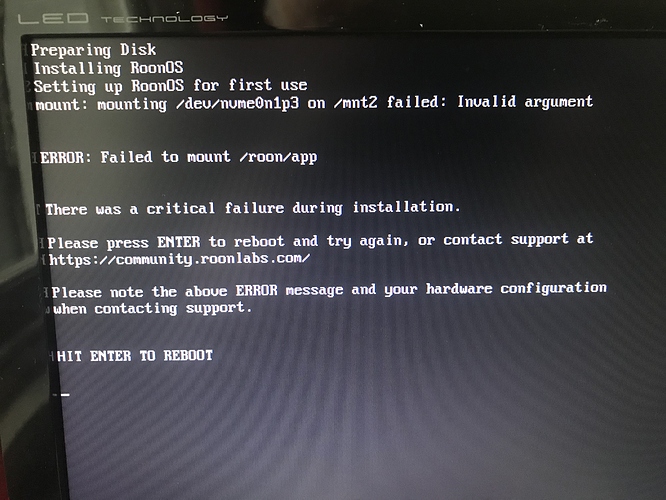 On reboot the ROCK boots but the Roon database and setting show as "Not Ready":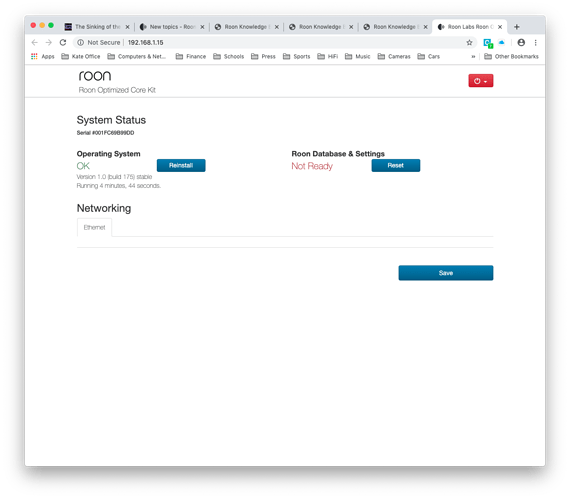 Reinstalling the OS via the web UI has no impact.
Any thoughts would be welcome.