Roon 1.7 build 667 stable 64bit
Windows 10 Pro 20H2
Nvidia driver 456.71
Balck screen after resizing :
I have had similar issues and have a ticket in, I love text and icons white often. Seems to happen in Roons dark theme and not the light for some reason.
Hi @fatez,
Can you please open Windows Start menu and type in "System Information". Then, share a screenshot of System Summary and Components -> Display?
Are you using the latest drivers for your GPU? Does this issue only occur when using Dark Mode in Roon, and doesn't occur on Light Mode?
Have same problem here. After a update and formating the PC
This topic was automatically closed 36 hours after the last reply. New replies are no longer allowed.
Hi @fatez,
It looks like your thread was accidentally auto-closed so I have re-opened it for you.
Thanks for the screenshots! Can you please send me a set of your Roon logs from the affected device by using these instructions?
Are you using any custom scaling options on the Windows PC or are you using standard 100% scaling?
Hey @noris
I am getting this too. Resizing the window just goes to black. I have a feeling this could be related to G-SYNC somehow.
Do you need any other bits of information beside logs? I got a Google Drive link ready to go.
NVIDIA Drivers: 456.71 (Release date 22nd October 2020)
Display readout: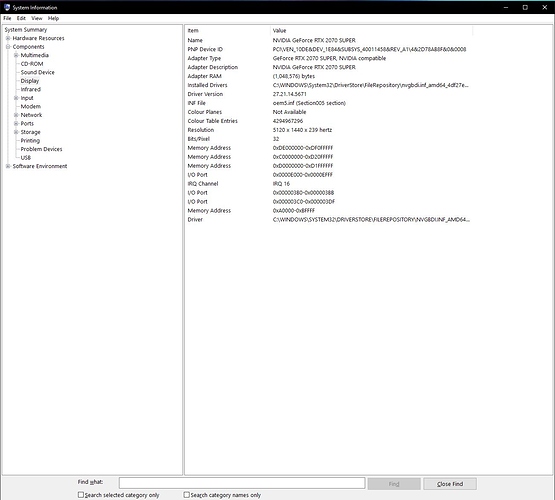 Hi @Thomas_Richards,
Thanks for reaching out!
Can you please send the logs to me as a private message (click my name -> message)? I can certainly add this and your screenshot to the investigation ticket.
If you temporarily disable G-Sync does the issue go away? Knowing this would be valuable information, so if you are able to verify if this is the case, it would be much appreciated!
Sure, I'll DM them now.
Tried Roon with and without G-Sync enabled and unfortunately, the issue persists in both.
Dark theme and Light theme too. I'll open Roon with its window size being normal. Second I double click the top bar to maximize, the whole app turns black and I need to restart the program to get vision back.
EDIT: Can't seem to see a button to DM you (same for on your profile - could be as I am a fresh account)
Hi @Thomas_Richards,
Your account was too new to send DMs, just fixed that up for you so if you refresh the option should now be there. Thanks!
Hi @Thomas_Richards / @fatez,
I spoke to the technical team again regarding this issue, and we have had one other report of similar behavior.
Can you please check to see if you have any Overlay tools like Nvidia or MSI Afterburner running? In the other report we received, quitting this application resolved this behavior for the user.
Hey!
Well well well, that was definitely it.
It's good to be able to use the app now. I would say that it would be nice if Roon and MSI Afterburner could co-exist but I don't quite know if that's an issue for you to fix or MSI.
Either way, appreciate the response

This topic was automatically closed 36 hours after the last reply. New replies are no longer allowed.