Well, let me just say… Woo-hoo! Support for the LYRICS tag!
Wooh hoo a directory of internet stations ! It's a detail but the pictures for categories don't look so compelling to me. Children, Classical, Folk, Jazz, Stage & Screen look nice but most of the others are "who's that guy?"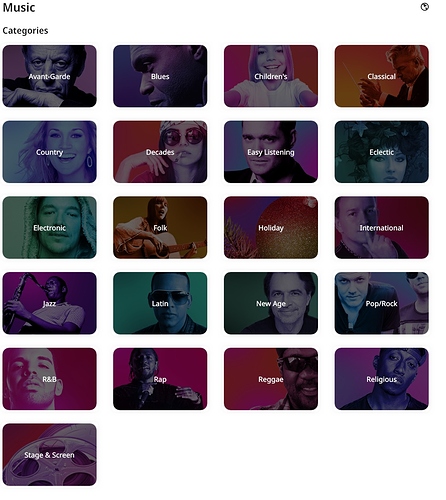 Great job guys! The readability has improved immensely (I had the cutoff letters problem).
Yes, awesome job guys! This is what we've been waiting for!
Good job! I just have to find how my Aries Mini disappeared from my devices now…
Sort by station bitrate would be nice
Got really excited with the Android update - especially with the idea of Roon FINALLY! taking its place in the notification area. But - it's only when playing on the actual device - not when using as a remote to other output devices. My feedback on this would be - thanks a ton for adding this functionality but I think MOST people use their devices as remotes to bigger better sounding output devices - and having that notification functionality in that case would be appreciated.
where did you find the support for the Lyrics tag?
To me, the most important of all is the Android app fix! At last I can stream music with the app in the background while doing other things - No pops, cracks or stops! That alone is worth the 1.7 release IMO.
My next HOPE is the official support of remote streaming somehow… Then it'llbe the perfect piece of software for me

Well done everyone and thanks for all your work and effort you have put in Roon.
Glad to be a lifetime adopter from today and on.
Thanks Danny, in my excitement to go over all the new improvements I glanced over this and never noted it… It was one of the things I was really looking forward to… So happy to see Roon move forward, can't imagine the experience of listening to my music outside Roon…
I love the new Zone icons—huge aesthetic/usability improvement.