I would rather prefer Roon to take a more revolutionary, radical (modern) approach from both presentation and user-interface.
I only use a 27" iMac and I feel I am looking at a Roon implementation designed for an iPad or tablet in portrait mode so much wasted space on windscreen monitors that could be effectively used.
Bug report. Is there a specific section for bugs? If so, please move accordingly. I didn't see one.
On the "New Releases For You" page, if you click a specific genre at top (i.e "Electronic") and then choose an album within that genre, clicking the Back arrow goes back to the "All Albums" page, not back to the genre page you were on previously. This is particularly annoying if the genre page has a lot of albums on it, because 1) it forces the user to click the specific genre button again, and 2) the user has to scroll/hunt to find the album they were looking at.
The expected behavior when clicking the back arrow is to go back to the genre page, not the "All Album" page.
Here is a video: 2021-04-18_14-06-36
I agree circle pictures aren't working. I have a few where the photo is there but the artist isn't even visible because their head was not centered on the image used to create the "arty" circles. Please let us see bigger & rectangular images.
Yes! This is very annoying!
This really makes the experience of exploring the 'For You' content annoying, hope they fix it soon.
I still have the issue that my Hifiberry (running Hifiberry OS and being connected via Wi-Fi) is disappearing from the list of playback devices in the middle of playback. After some time, it's popping up again, but it's faster to reboot it. I would still prefer if it would not disappear in the first place. I guess it must somehow be connected to the Wi-Fi connection because my other Hifiberry (same OS, connected via LAN) works flawlessly.
My impression is that it may have lost the connection, but that Roon in V1.8 does not stutter for a brief moment (as it did in V1.7) but instead simply removes the device from the list of devices.
See my feedback you can See here. Something got brocken in the API
dear Roon people… a suggestion if I may…
while listening something, for example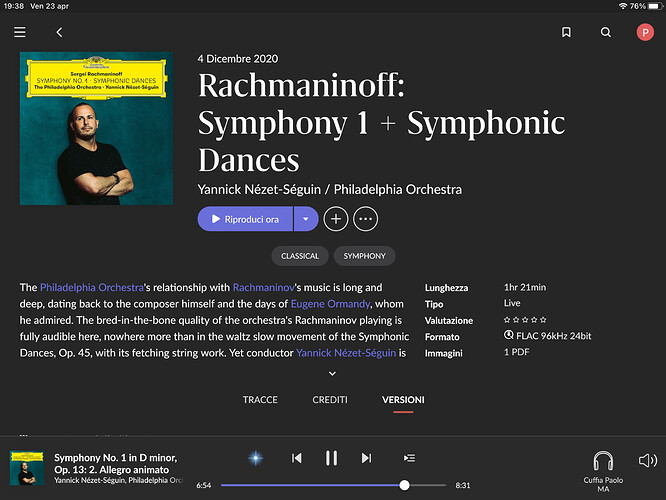 why not to add below those lines indicating the available version of the same execution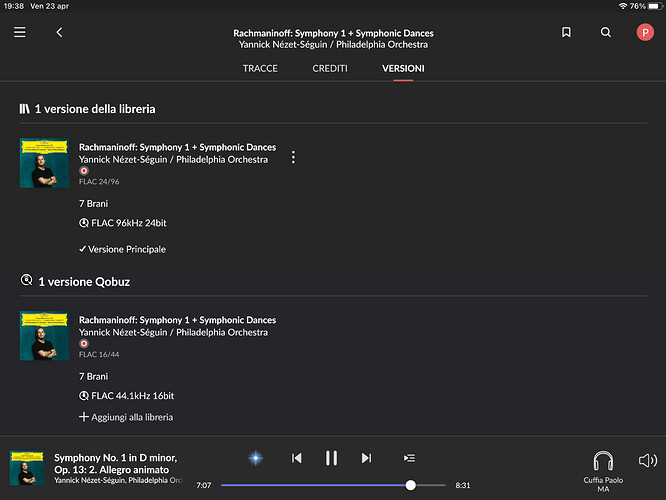 also a line with the text "tutte le registrazioni" ( or whatever language you choose ) and, miracle (!) , tapping directly on it have shown something like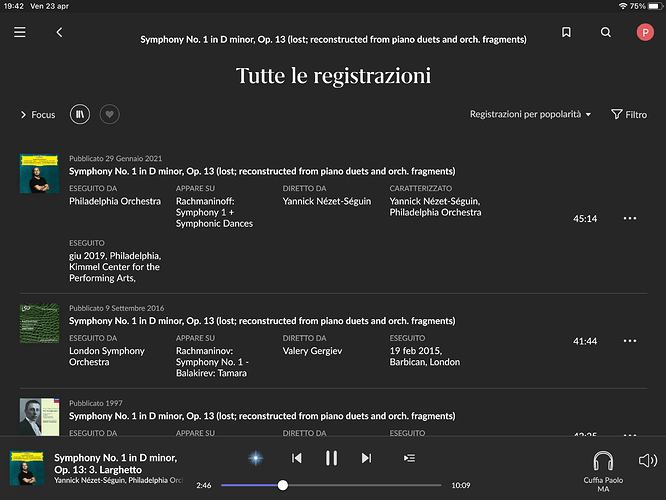 that in this case are something around 50 other possibilities, without forcing users to go down an absurdly tortuous path of… search… author… symphony… etc etc ?
it's called "ergonomics"… comfort of use… thank you in advance
can you see that in the first screenshot I posted above?
what I would like to have is exactly what I described … a single tap inside the same page that activate a search and show all the available choices… at a single tap distance
It's right there.
Your screenshot shows an album. One album can contain many different works. These works are shown lower in the album details page: works organised trackwise. Every work might have an indication I showed in my screenshot. That will take you to all other performances of the same work.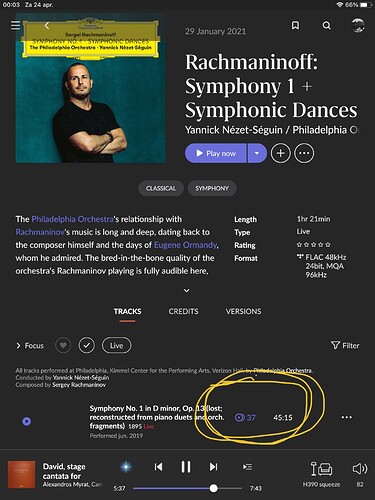 The versions button on an albums page takes you to different versions of the same album: from Tidal, Qobuz, local content, different masterings etc.
Arlen… NO
let try another choice … Beethoven 2 (can't spend my life typing a lot of words) I put it in the search window and obtain
not exactly what I was looking for but… let's scroll down…
Ok, I like that one with Marta… tap on that (please note the icon showing is in my library) and…
suddenly the icon about "already in the library disappear", ok not a big problem, but… scrolling down can you see the possibility to go into other performance/records? … NO
here now is where there should be somewhere also a field like
… and now tapping on that the miracle to access directly at those 165 versions and the possibility to select something… read in the description… select to try or not… easy… fast… ergonomic
why is this an info available during the first search and not later if, after some times, user want to investigate other versions of something he is listening? Why to be obliged to re-type the search and bla bla bla … ?

… what the hell… I don't know why I didn't see it before… crazy
Thank you


Happens all the time.
Local file track loading delays are impossible. Audirvana has no issues here!
I just clicked "go to beggining" and waited 45 seconds! WTF!!! Local file FFS!!!
Thank you for the hard wok. So far everything works just fine on my aging devices. Going on 6 + year old electronics, mac, IOS, android and Microsoft and not-a hiccup since the big update. Thank you all.