Sorry if this is a dumb question - where in the app would I find the new export functionality?
Yep your correct there is no way to switch to change the local volume its Roon or nothing when it's playing. You can do this with other apps usually as it gives you a volume bar with options to switch it.
Same for me as well. Got the message to update, the software went through the process but no change. The core is on an MacMini M1 and I use an iPhone X, MacBook and iMac 2019 as controllers.
Thanks for confirming, that's not very practical.
Control from iPhone/Watch work fine (stop/start/next/previous), but the volume is not working for me.
In my case I'm using an extension to control the volume, which works fine when using the Roon volume directly.
Possibly it's because I'm using volume with 'relative' setup, which means I only have +/- buttons instead of a slider.
Could you please add also support for relative volume extensions?
2/ Please add back the option to delete versions of albums directly in version view
Thanks,
Stefan
Desktop and tablets (I think - certainly for Windows tablets) - not smartphones.
Mine also looks like yours and not like the view shown from roon. Any idea if the newest version should be like the one advertised by roon?
Has Build 831 Roon Remote been pushed to Amazon app store?
My Fire tablet is still running 816 (I am in UK)
The 3 side by side squares are a marketing mashup. It should look like it did before but laid out a little bit more logically and with more info (file path, for example).
Great work with this release


lock screen control for iOS works so well. User friendliness increased singificantly


Loving Roon
I see it now - before I was on my iPad. Only on desktop I guess …
when I'm streaming to a fixed volume endpoint the iPhone audio goes to zero
831 all looking good so far for me. Android lockscreen control including volume works how I want it - both on phone and tablet. The only oddity is working with my Garmin watch (via the Android app) - volume works, but not play/pause/forward/back, although they work fine on the phone. Not a great issue, but interesting!
Just a quick note to say Thank You.
Thanks to all who make Roon work so well.
1.8 is working flawlessly for me.
Best of all, I'm not detecting even a whiff of pumpkin spice in the 1.8 recipe. Thank you!
Cheers to all.
I also want to say thank you, I'm trying this madness (picture)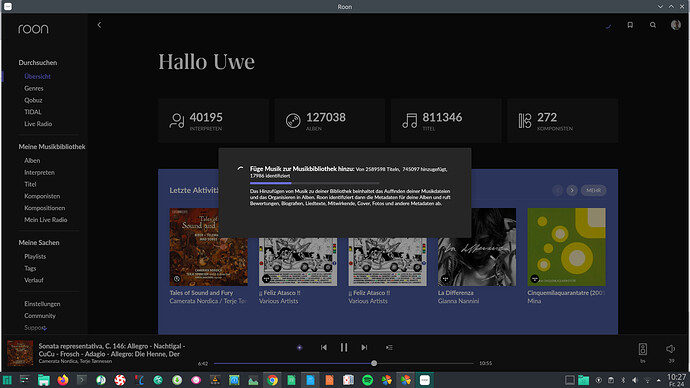 By the way, I managed the 800,000 on a powerful XMG system with 64 GB RAM and fast processor in one working day. If this is the future, we will soon have our own 70 million music service in every home

No joking aside. It would be unhealthy to just sit at the computer and listen to music for 24 hours without sleep. But I currently listen on this system flawlessly without delays and that already surprises me. However, I already expect that even this system will still slow down on the overall track. Wait and see…